TPP ministerial talks set for Oct. 25-27 in Sydney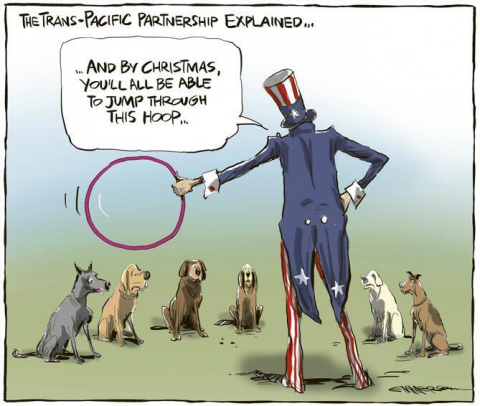 Jiji Press | 5 October 2014
TPP ministerial talks set for Oct. 25-27 in Sydney
Jiji Press SYDNEY— Japan, the United States and 10 other countries taking part in Trans-Pacific Partnership free trade negotiations will hold a ministerial session in Sydney on Oct. 25-27, according to Australian Trade and Investment Minister Andrew Robb.
The 12 countries aim to break the impasse for an envisioned broad accord in November.
Since Akira Amari, state minister in charge of TPP negotiations, and U.S. Trade Representative Michael Froman remained divided over tariffs on agricultural products and over auto trade during their talks in Washington last week, some observers say it will be difficult for the countries to reach an accord by the year-end.
In November, there will be international conferences, such as an Asia-Pacific Economic Cooperation forum summit in Beijing, that will bring together leaders of the TPP countries.
But Robb expressed confidence, saying they are close to an accord.
In the ministerial session in Sydney, the 12 countries plan to hold last-minute negotiations in a bid to make progress toward a broad accord.
The TPP chief negotiators are expected to hold talks prior to the session.
---