TPP - what is the cost for Vietnam?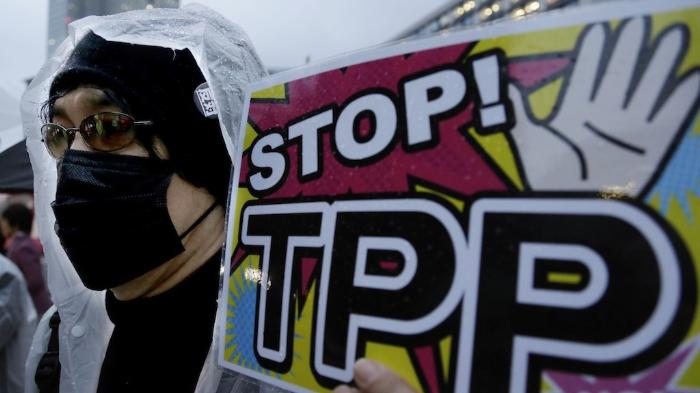 Vietnamnet Bridge | 29 December 2015
TPP - what is the cost for Vietnam?
"How much did Vietnam have to trade off to join the Trans-Pacific Partnership (TPP) and the Vietnam-EU Free Trade Area (FTA)? Surely, we will have to pay dearly for them when the tax rate falls to zero percent," said Prof. Nguyen Mai, Chairman of the Vietnam Association of Foreign Invested Enterprises (VAFIE) at a recent seminar.
Prof. Mai said Vietnam has recently promoted the TPP too much, but it remains a big question when the TPP will take effect.
The VAFIE Chairman said many people believe that Vietnam is becoming the world's factory, but he wondered how Vietnam can become its factory with its current way of production.
He also expressed concern about the perception of global integration of officials and entrepreneurs at the local level.
"How foolish is it to let foreigners be the main beneficiaries in the Vietnamese market? Who instructs Vietnamese private businesses to benefit from the TPP?" he asked.
He also cited the statistics of investment of Korea and Taiwan in the garment and textile sector in Vietnam with over $2.5 billion this year, adding that the positive point of this is to reduce China's trade deficit.
Mai said that garments must be held by domestic enterprises and part of the dyeing sector can be given to foreign investors so that local businesses can benefit from TPP and FTAs. He asked the Ministry of Industry and Trade to have clearer views about this.
He also emphasized that Vietnam has to pay a lot for agriculture, fisheries, textiles, and information technology. However, the opportunity will be great if Vietnam can solve the problem of internal strength.
Dr. Nguyen Tri Hieu, a financial expert, said that while countries such as the USA, Japan, and Malaysia remained silent on the issue of TPP, in Vietnam, this agreement is warmly hailed. He said Vietnam should be moderately optimistic about it.
"Will Vietnam really benefit from TPP, with growth in GDP and exports? Moreover, our market will open up, so the challenge is huge," he said.
Dr. Hieu cited the story on the imports of American chicken into Vietnam as an example. If the price of American chicken legs is VND21,000/kg, it is VND25,000/kg for Vietnamese chicken legs. He suggested that this discrepancy is partly due to exchange-rate issues.
According to the survey by a magazine in the UK, which used a Big Mac sandwich to investigate purchasing power parity, the value of a Big Mac sandwich in the US is $4.79. In Vietnam, it is $2.06.
"This means that the Vietnam dong is set at a high level, even double the actual value. If the Vietnam dong is floated, the exchange rate can be up to VND30,000/$1 or more. Of course, the theory of purchasing power parity is just a reference value. But with such a survey, the purchasing power of Vietnam is very high," Hieu said.
Hieu predicted that in the future, it is not sure if Vietnam can benefit from TPP. If foreign products are very cheap in Vietnam, many Vietnamese businesses will be excluded from the market.
Dr. Doanh, former director of the Central Institute for Economic Management. said that by joining quality free trade agreements, the first success for Vietnam will be institutional reform and openness and transparency of state agencies.
"For Vietnamese enterprises, the biggest advantage is that products are produced with cheap labor, especially in agriculture. It is likely that Vietnam will be able to increase exports of textiles and garments, footwear, furniture and other agricultural products," Doanh said.
He added that Vietnam has great hopes for cooperation with Japan, especially in exports of fresh flowers and fresh fruit planted in Lam Dong province.
Japan wants to take advantage of Lien Khuong airport in Lam Dong to export agricultural products from Vietnam to Cuba and other TPP-member countries.
"In addition, Japan is also interested in many other products such as tuna, black sesame, garlic, and chilli. This is an opportunity for Vietnam," Doanh said.
In addition, the real estate market is getting warmer, especially the segment for foreign investors.
He said the information technology sector will be one of the sectors with big development opportunities, to be followed by science and technology serving hi-tech agriculture.
---