Trade agreement between the European Union and Pacific countries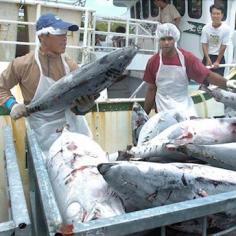 FISH Update | 21 January 2011
Trade agreement between the European Union and Pacific countries
Fishery products from Papua New Guinea and Fiji will be able to enter the EU market more easily, after the European Parliament (EP) approved a trade agreement between the European Union (EU) and the two Pacific countries.
The economic partnership agreement provides for the elimination of tariffs and more flexible rules of origin for various food products, such as fishing.
That is, the fishery resources of Papua New Guinea and Fiji will have to meet less stringent conditions for exporting to the EU.
Also, Parliament passed a nonbinding resolution that refers to the consequences of the pact with Papua New Guinea and Fiji to the European industries that process fishery products, such as tuna.
European Ministers expressed their concern that the exceptions to the rules of origin for these two nations will become a platform for processing and export, benefiting China, Philippines, Thailand, USA and Australia.
The European Parliament has asked the European Commission (EC) to suspend the exceptions to the rules of origin if this year proves to have "a disruptive impact" on European industry.
The agreement has been in valid since 2007, but will have to be ratified and reviewed by Parliament in 2011.
In this regard, the National Association for Producers of Canned Fish and Shellfish (Anfaco) reiterated that this agreement is a "serious threat" to the interests of Spanish seafood industry.
According to the secretary general of Anfaco, Juan Manuel Vieites, "we hope that the agreement is not renewed because the socio-economic impact study, prepared by the EU itself, as well as one which we will take to Brussels and the EP, make it clear that the threat is real."
"During the last three years in which the agreement has been in affect, these countries have seen an increase in exports to the EU by 3 per cent, and major tuna groups in the world are building several macroplants in Papua in order to produce 700,000 tonnes of canned tuna, twice that of the Spanish production" he told the newspaper Faro de Vigo.
---