Trade agreement with Colombia and Peru tests our commitment to human rights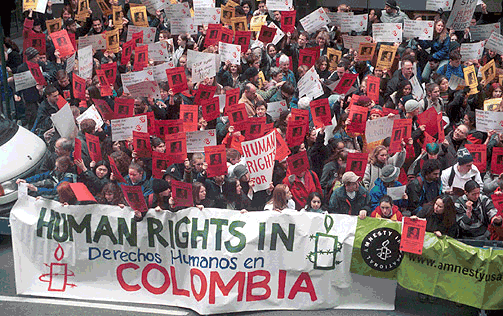 Irish Times | 28.01.2015
Trade agreement with Colombia and Peru tests our commitment to human rights
Colombians who face poverty, inequality and violence want trade that works for them
Karol Balfe
The recent review by the Government of our foreign policy, The Global Island, strongly reaffirms a central commitment to human rights. This is to be welcomed. Ireland has earned an enviable reputation as a defender of human rights. However, if these commitments are to be realised, they must stand the test of what we do in practice. The first significant test comes today as the Dáil debates ratification of the EU Free Trade Agreement with Colombia and Peru.
Colombia has a long history of serious human rights violations. Five decades of conflict have resulted in there being approximately 5.7 million internally displaced people, and involved the illegal seizure of approximately six million hectares of land. Today, human rights abuses persist. People who stand up for change are brutally murdered. In 2013 78 human rights defenders were killed, including community, indigenous and afro-descendant leaders. The most recent figures show that in the first half of 2014 alone, 30 human rights defenders were killed. Inequality persists and many in Colombia face poverty and marginalisation.
Some positive changes have occurred and should be welcomed, in particular the approval of the Victims and Land Restitution Law in 2011 and the beginning of the peace process with the main guerrilla group in 2012. But these have not changed the everyday lives of those most vulnerable to violence and marginalisation.
Opponents
The value of equitable and just trade practices as a means to promoting sustainable growth for developing countries needs to be acknowledged. Opponents of this treaty do not oppose trade per se. But Colombians facing poverty, inequality and violence want trade that works for them. Many Colombian unions and farmers opposed the free trade agreement through large-scale strikes in 2013, and today hold it, and other such trade agreements, responsible for increasing poverty while fostering a climate in which corporate rights are paramount and labour rights hardly exist. Many also argue that the situation of peasants, indigenous and Afro-Colombian peoples has worsened since the introduction of the US free trade agreement.
Richard Bruton, the Minister for Jobs, Enterprise and Innovation, has stated that the human rights mechanisms within the agreement are "robust and comprehensive" and that "this agreement with Colombia represents an opportunity to support sustainable, equitable development". The clauses do provide a limited opportunity to promote human rights.
However many human rights advocates argue that the clauses in the agreement are insufficient to protect human rights.
The record of the US Free Trade Agreement with Colombia offers important lessons. A US Senate report on this agreement found that murders and threats against union members and harmful subcontracting persist in Colombia largely unabated. The report warns that the worsening labour rights conditions in Colombia provide an important lesson when developing trade policy.
Statement
In late 2014 the Oireachtas Committee on Jobs, Enterprise and Innovation made an important statement on human rights in Colombia. It highlights Irish parliamentary cross-party concern that "the Trade Agreement in its present form fails to provide for monitoring of the human rights clause and thus presumes protection of human rights rather than proves their protection. The committee finds that the provisional application and potential ratification of this Trade Agreement could be interpreted as condoning reported ongoing abuses." Clearly Oireachtas members are concerned about the human rights implications of this agreement.
So what will Ireland do? We should not ignore the record on human rights and the opposition of a wide range of Colombian groups. A coalition of Irish organisations (Christian Aid Ireland, Grupo Raices, the Irish Congress of Trade Unions Global Solidarity Committee, Justice for Colombia Ireland, The Latin American Solidarity Centre and Trócaire) has been urging the Government not to ratify, and in the event that the accord is ratified, to insist on better human rights protections.
Ireland should therefore call for a dedicated and comprehensive human rights chapter, including the establishment of a specific independent body or committee (independent of the Trade Committee) to monitor human rights with the involvement of civil society. If the Government ratifies, it should put forward the text from the cross-party political contribution statement already agreed by the Oireachtas Committee on Jobs, Enterprise and Innovation as a way to express our grave concerns.
Above all, we should ensure our commitment to human rights can stand the test of time. Those working for justice and peace in Colombia deserve nothing less. Karol Balfe is an adviser on governance, peace-building and human rights with Christian Aid Ireland.
---