Trade commission recognizes damage from Korea-EU FTA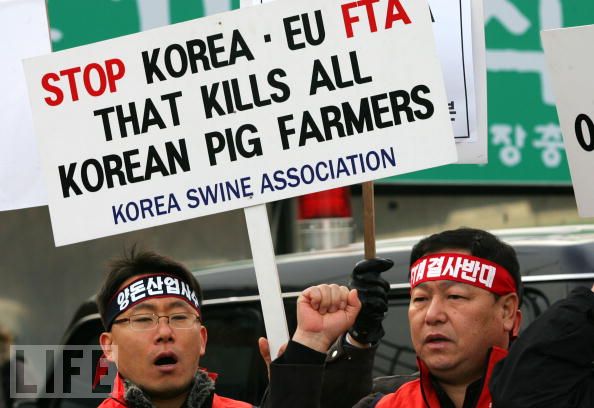 Yonhap News Agency | June 26, 2013
Trade commission recognizes damage from Korea-EU FTA
SEOUL, June 27 (Yonhap) — South Korea's trade commission has recognized damage to a local company from the country's bilateral free trade agreement (FTA) with the European Union, the government said Thursday.
In a meeting held late Wednesday, the National Trade Commission accepted a claim from a local pork processing company that it has suffered damage from the growing market share of European suppliers here, according to the Ministry of Trade, Industry and Energy.
The case marks the fourth of its kind, in which the trade commission awarded damages to a local firm, since the Korea-EU FTA went into effect in July 2011.
The commission has said the domestic market share of South Korean pork processors stood at 84.76 percent with that of European pork products standing at 5.65 percent in 2010. The market share of South Korean products shrank to 70.98 percent at the end of 2012 while that of European products surged to 12.22 percent.
The commission's recognition of damages from the FTA will entitle the local company to a range of financial and administrative support that is designed to help boost its sales and exports, including a subsidy of up to 40 million won (US$34,680) in consulting fees and up to 3 billion won in loans for equipment and facilities.
---