Trade deals a major boost for the country, says Mustapa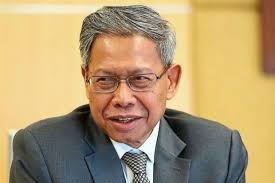 The Malay Mail | 7 February 2018
Trade deals a major boost for the country, says Mustapa
Kuala Lumpur- Trade agreements have benefited the country in a big way and more will be in store when the Regional Comprehensive Economic Partnership (RCEP) is concluded and the Comprehensive and Progressive Agreement for Trans-Pacific Partnership (CPTPP) is signed.
Minister of International Trade and Industry, Datuk Seri Mustapa Mohamed, said last year, 63 per cent of the country's total exports went to Free Trade Agreement (FTA) partners.
He said trade with FTA partners expanded by 19.9 per cent to RM1.123 trillion.
Exports to FTA partners rose by 20.2 per cent to RM590.15 billion, representing 63.1 per cent of Malaysia's total exports. Imports grew by 19.6 per cent to RM532.57 billion, Mustapa said.
Mustapa said export growth was recorded to all FTA partners except for Laos.
Exports to Australia surged by 20.8 per cent to RM32.4 billion, South Korea (24.8 per cent to RM28.59 billion), New Zealand (48.6 per cent to RM4.51 billion) and Chile (4.9 per cent to RM714.5 million), he said.
"Malaysia has been an open economy dependent on trade and we have been one of the biggest supporters of free trade," he said after announcing Malaysia's trade performance for 2017 here today.
Malaysia is currently in the process of concluding RCEP and exploring FTA with the European Union.
"Malaysia needs a more diverse market for its products," he said.
RCEP is free trade agreement between Asean'S 10-member states and six other countries, namely Australia, China, India, Japan, South Korea and New Zealand, while CPTPP is the former TPP without the United States.
"CPTPP would still benefit Malaysia without the participation of US as there are 11 other countries (including Malaysia) involved," he said.
The CPTPP is slated to be signed in Chile next month.
---