Trade-friendly Vietnam now offers far more than just low-cost labor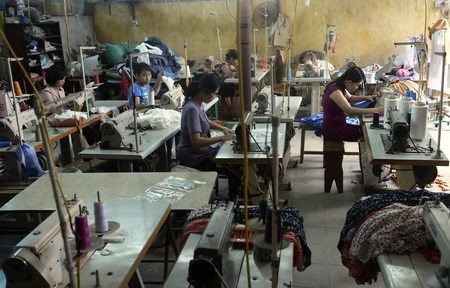 Thanh Nien News | 8 January 2016
Trade-friendly Vietnam now offers far more than just low-cost labor
By Thao Vi
Chairman of the EU-ASEAN Business Council explains why foreign investors are interested in Vietnam
Vietnam is seen by many foreign businesses as being a very attractive place to invest in and do business for many reasons, Francois Guibert, Chairman of the EU-ASEAN Business Council says.
"Vietnam has a lot more to offer investors than just low-cost labor," Guibert told Thanh Nien News in a recent email interview. "The country is fast developing economically and has a large consuming class of its own. It also takes an increasingly liberal approach to trade as witnessed by the EU-Vietnam FTA, the TPP and other trade deals that Vietnam has undertaken recently."
As manufacturers are moving their factories from China to ASEAN countries, Guibert said that move "is not solely about labor costs though such costs are certainly a significant element."
He said the ASEAN Economic Community, which will remove many trade barriers within the region, coupled with the large and growing population and a young and relatively tech savvy working populations, will make the region a more attractive place for investors.
The prime beneficiaries of the move from China will be countries which adopt a more liberal approach to regulation and shy away from unexpected regulatory developments, according to Guibert.
"Countries such as Vietnam which are opening up more and more are certainly well positioned to take the most advantage," he said.
Vietnam's actual foreign direct investment (FDI) inflow hit a record of US$14.5 billion last year, or a 17.4-percent year-on-year increase, official data showed.
Meanwhile, new FDI pledges dropped 0.4 percent to $15.58 billion. Nearly 70 percent of the new investment pledges are for the manufacturing and processing industry, followed by the energy and property sectors.
Vietnam's economy expanded 6.68 percent in 2015, the fastest pace in five years. That growth rate, supported by an expanding industrial sector and foreign investment, beat the government's estimate of 6.5 percent.
In a move to make the business environment even more attractive, in late-December the government published a list of 17 business sectors that are open to foreign investors, with some conditions.
Earlier in December, Vietnam signed a free trade deal with the EU, making it the first Southeast Asian country signing the FTA with the bloc.
"The fact that Vietnam has been willing and able to enter into such an agreement is a clear sign that the country is positioning itself as being open for international trade and investment, to be a gateway not only to ASEAN but also to the broader Asia-Pacific Region," said Guibert.
Region-to-region FTA
The EU has also concluded its agreement with Singapore and is holding separate talks with Malaysia and Thailand to secure similar free trade deals.
In addition, the EU-ASEAN Business Council is supporting and actively advocating for a region-to-region FTA between the EU and ASEAN because it "sees real and tangible benefits in such a trade deal, both politically and economically," Guibert said.
A regional FTA between the two blocs would be "an important political statement from the part of the EU, acknowledging ASEAN as an economic bloc and a trading partner of growing importance," he said.
"The value of this to both Europe's standing collectively in the ASEAN region, and to the long-term economic and political relationship between the EU and its member states and ASEAN and its member states cannot be overemphasized."
From an economic and doing business perspective, a region-to-region deal would bring benefits particularly for European businesses that manufacture goods in the region, according to Guibert.
Such a deal would lead an increase in products qualifying for FTA benefits through the accumulation of local content as content from all ASEAN countries would be counted towards "local content" requirements, Guibert said.
The deal would also make developing businesses within the region easier thanks to one set of rules and regulations for the whole region, he said.
Guibert said the deal would give an increased access to smaller less developed nations in ASEAN.
"With countries such as Myanmar, Cambodia and Laos likely to be many years from being near the top of the European Commission's bilateral FTA negotiation list, a region-to-region FTA would provide better access to these markets, thus aiding trade and investment with them whist simultaneously helping them develop their economies further."
Europe is the largest source of FDI for ASEAN, with total investments in 2014 alone amounting to more than $29 billion, or more than a fifth of all the FDI coming into the region.
The EU ranks fifth among the big FDI partners of Vietnam, with committed investments reaching $587 million in 2014.
---