Turkey's economy minister seeks Japan trade pact this year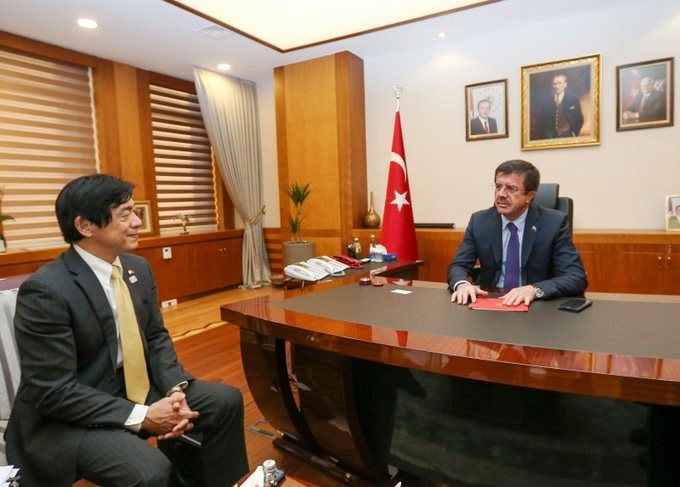 Nikkei | 9 March 2018
Turkey's economy minister seeks Japan trade pact this year
by AKIHIRO SANO
Turkey aims to achieve a framework this year for a delayed economic partnership agreement with Japan, according to the economy minister, who also warned that Ankara is prepared to take action to counter planned U.S. tariffs.
"I have great hope (we will reach) a framework agreement within 2018," Nihat Zeybekci told Nikkei here ahead of his departure Sunday for Japan, where he will meet with his counterpart Hiroshige Seko. The stalled free trade agreement will top the agenda. "With this visit I would like to see a clear picture, otherwise I will not run after this," said Zeybekci, who believes that an agreement could result in a pact being implemented in 2019.
The rush to strike a deal with Japan owes partly to frustration with the stagnation in talks that have been in the works since 2014, as well as concern about the impact of a Japan-EU economic partnership agreement that was finalized late last year. The minister worries that the deal, expected to take effect as early as 2019, would let Japanese products enter Turkey duty-free through the EU because of Ankara's membership in a customs union with the bloc.
Countries that sign deals with the EU "automatically get the right to access Turkey's market free as a bonus," Zeybekci complained. "It's a joke." He called for wrapping up the Japan-Turkey deal before the EU agreement goes into force so that both can take effect at the same time.
The Turkish government has sharply raised tariffs on industrial products without warning on numerous occasions. Zeybekci called this an effort to stem an "invasion" of cheap Chinese goods.
Turkey is a major player in the Middle East, with one of the region's largest economies and a population of roughly 80 million. It is a popular investment destination for such companies as Toyota Motor, which use it as a hub for exporting to and investing in Europe and other nearby markets.
Turkey's imports from Japan totaled roughly $4.3 billion last year, while its exports there came to about $400 million. Ankara's relationship with Brussels and free trade agreement with South Korea put Japanese companies at a disadvantage. Whether the Japan-Turkey deal pans out probably will hinge on Tokyo's ability to build a domestic consensus on opening the country's doors to Turkish agricultural products.
While in Japan, Zeybekci will attend a Japan-Turkey construction conference with participants including construction companies and state-backed financial institutions from both countries. The minister hopes to encourage partnerships on infrastructure projects in regions such as Africa and Central Asia. "Japan has finance and technology" while "Turkey has skill," he said, noting that Turkish construction companies rank second worldwide in foreign projects.
Zeybekci also discussed Ankara's response to planned U.S. tariffs on steel and aluminum. Turkey accounts for 5.7% of American steel imports, a larger share than Japan.
"We will take countermeasures," though not in the form of retaliatory duties, he asserted. Instead, he hinted at such steps as more stringent customs inspections, saying Turkish importers will be "more sensitive" regarding American products.
Zeybekci warned that there is "a danger of a trade war," citing statements from Japan, China, the EU and Canada.
Turkey remains in a state of emergency imposed by President Recep Tayyip Erdogan administration in 2016 in response to terrorist attacks and an attempted coup, under which Ankara has cracked down on opposition to the government. Western concerns about human rights and rule of law in the country have dented foreign direct investment.
The state of emergency "is security-based and does not affect economic activity," Zeybekci said. Ankara hopes to lift it "as soon as possible" once the "necessary conditions" are met, he added, though he did not offer a time frame.
Talks with the EU on improving the customs union have stalled amid German opposition. Zeybekci expressed optimism that the planned formation of a new coalition government in Berlin will bring "positive improvements" on this front. He hopes to expand the arrangement to include such areas as services and agricultural products.
---