UAE and Ethiopia sign agreement to protect and encourage investment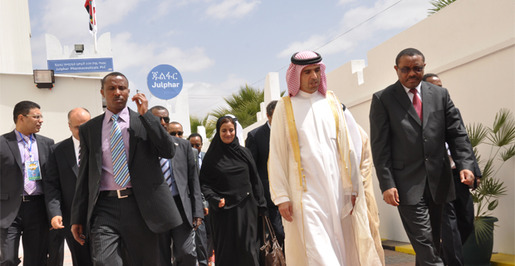 WAM 23/02/2016
UAE and Ethiopia sign agreement to protect and encourage investment
ADDIS ABABA, 23rd February, 2016 (WAM) — Ghazi Abdullah Salem Al Mehri, the UAE Ambassador to the Republic of Ethiopia, has participated in intensive negotiations held over three days in the Ethiopian capital, Addis Ababa, between a delegation from the UAE, headed by Dr. Hamid Nasr Abdel Qader, an economist expert at the Ministry of Finance and the Ethiopian side.
The negotiations culminated by the signing of a comprehensive agreement, the first of its kind, to protect and encourage investment between the United Arab Emirates and the Republic of Ethiopia.
The signing of the agreement represents economic development and a growth in the path of improving relations between the two friendly countries, and constitutes the necessary legal framework for the protection of UAE investments in Ethiopia.
It is expected that the agreement will encourage and attract more UAE institutions and companies to engage in extensive and diverse investment in Ethiopia, as it will provide significant incentives and privileges for foreign investment.
---