UAE, China agree to complete "free trade" with Gulf states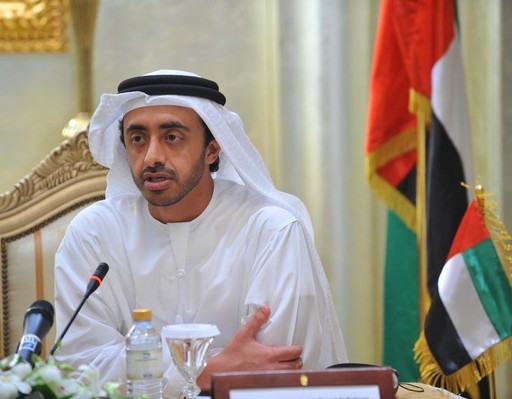 Al Awsat | 4 May 2017
UAE, China agree to complete "free trade" with Gulf states
China and the United Arab Emirates said Tuesday they would expand cooperation and work toward a free trade agreement between China and the six Gulf Cooperation Council (GCC) countries.
H.H. Sheikh Abdullah bin Zayed Al Nahyan, Minister of Foreign Affairs and International Co-operation and China's foreign minister Wang Yi signed a Memorandum of Understanding (MoU) on the establishment of a Joint Cooperation Committee between the Governments of the United Arab Emirates and the People's Republic of China.
China and the UAE both support free, open, and transparent trade and are working toward improving coordination and cooperation to close the free trade deal in the near future, Yi said after meeting with Sheikh Abdullah.
During the meeting, the two parties reviewed their friendly relations and the developments they witness in various fields, including those economic, trade, investment, tourism and renewable energy fields.
They also discussed means of boosting bilateral relations and developing them for the common interest of the two countries. They also exchanged views on a number of issues of common concern, especially the situation in Syria, Yemen, Iraq, and Libya.
Sheikh Abdullah received an official letter from Jiang Zengwei, Chairman of China Council for the Promotion of International Trade, confirming China's participation in EXPO Dubai 2020, and he headed the inaugural meeting of the UAE-China Joint Cooperation Committee.
The UAE Foreign Minister expressed hope that the Free Trade Agreement (FTA) negotiations between the GCC and China will go forward "at a time here we are seeing the new silk road moving from being a dream to a reality.
"We currently very much appreciate that the trade between our two countries has crossed the 50 billion US dollars mark that without the oil sector being counted in, but we very much see that our relationship can even go forward especially looking at the UAE as not only the second largest market in the Middle East but the center of logistics finance and trade for the region."
He said that since the UAE has lifted the visa requirement for the Chinese citizens, the number of Chinese tourists have increased by 70 percent.
"We look forward that we can see more schools in the Emirates where Chinese can be taught as a language for our students and I must say that we look forward to a great China pavilion in Dubai EXPO 2020 so thank you for your commitment today," added Sheikh Abdullah.
---