UK agri firms aim to cash in on EU-ASEAN FTA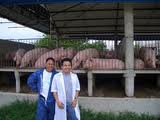 The Nation | March 14, 2013
UK agri firms aim to cash in on EU-ASEAN FTA
PETCHANET PRATRUANGKRAI
British enterprises, particularly from the agriculture and agri-technology sectors, are expected to take advantage of the upcoming free-trade agreement (FTA) between the European Union and Thailand.
Speaking at VIV Asia, the world's agri-technology trade show, in Bangkok yesterday, UK Minister of Food and Farming David Heath said that Thailand is a key centre of the Asean region. Bilateral trade between the EU and Thailand will help boost trade and investment growth for the UK as well.
He said that the agreement reflects the growing business relationship between the UK and Thailand and could present UK businesses with better access to food, technology and innovation markets in Asia and the Asean region.
To promote more trade and investment, Heath said that as Thailand's ability to become a centre of Asean trading and investment hub, the Kingdom could lead other Asean nations to set up the same import standards to facilitate trade growth in the region.
He pointed out that as there were different trade rules and regulations among Asean countries, trading partners like the UK enterprises have faced difficulty in accessing each market.
IMPORT STANDARDS
If the region had the same import standards, it should promote more trade growth in the region, he said.
So far, bilateral trade between Thailand and the UK is about 5 billion pounds (Bt20 billion). Last year, exports from the UK to Thailand was up 37.5 per cent compared to the 2011 figure of 1.88 billion pounds.
In addition, as leading 32 Britain companies, especially from the livestock industry, join the trade event in Thailand, the minister said that Thailand and the UK could tie cooperation in research and innovation in food industry to promote the growth of agro industry.
"Thailand and the UK are both food-producing nations. I do hope the exchange of ideas will lead to new productive collaborations between UK and Thai agri-business companies, as well as companies from Asean," said the minister.
British companies hoping to increase their trade and open up new export markets include ACMC, a Britain livestock company, who have established pig farmers in Thailand and Cambodia, and veterinary suppliers such as Meriden Animal Health, are about to sign a new distribution contract with Thai company LIC Agrotech at the VIV Asia.
---