Upgraded Singapore-Australia free trade agreement ratified, comes into force today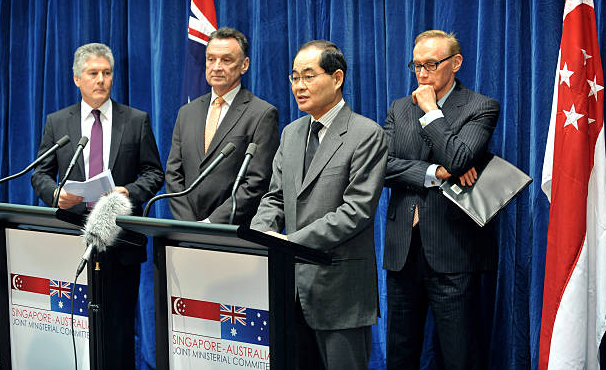 Business Times | 1 December 2017
Upgraded Singapore-Australia free trade agreement ratified, comes into force today
by Ann Williamsann
THE upgraded Singapore-Australia Free Trade Agreement (SAFTA) was ratified and came into force on Friday, heralding a new era of bilateral economic relations, the Ministry of Trade and Industry (MTI) announced.
Its key benefits include updated trade rules in goods, increased opportunities for businesses to bid for government procurement contracts, enhanced access to each other's services sectors and greater facilitation for investments. There is also improved mobility for business persons and rules to facilitate trade in the digital economy.
The upgraded agreement was signed by Minister for Trade and Industry (Trade) Lim Hng Kiang and Australia's Minister for Trade, Tourism and Investment Steven Ciobo in October 2016.
"Since Minister Ciobo and I signed the agreement last year, both sides have been working expeditiously to bring the agreement into force so that Australian and Singapore businesses can reap the enhanced benefits," Mr Lim said in Friday's announcement. "I look forward to greater collaboration between companies from both sides."
Among the benefits, Singapore companies will be able to bid for procurement contracts from Australia's federal government as well as all of Australia's eight states and territories under the upgraded SAFTA.
Singapore investors will also not need to seek approval from Australia's Foreign Investment Review Board for investments below A$1.094 billion (S$1.12 billion) in "non-sensitive sectors" in Australia.
The SAFTA also contains more flexible rules of origin, which will make it easier for Singapore exports into Australia to qualify for tariff-free treatment. It also reduces regulatory barriers that impede trade in goods, such as wine and distilled spirits, cosmetics, medical devices, and pharmaceutical products.
MTI said that Singapore companies that are interested in business and investment opportunities in Australia can email IE Singapore at enquiry@iesingapore.gov.sg.
Bilateral trade between the two countries has grown steadily over the years and reached S$18.2 billion in 2016, MTI said. Australia was Singapore's 13th largest trading partner in 2016 while Singapore was Australia's seventh largest trading partner.
Singapore is also Australia's fifth largest investor, having pumped in about A$98.9 billion (S$102 billion) worth of investments in real estate, telecommunications, tourism and utilities sectors across Australia, said MTI. Australia's foreign direct investment (FDI) into Singapore is S$15.5 billion, mainly in the financial and insurance services sectors, it said.
---