US-Europe trade pact adds to Switzerland's pain
Bloomberg | 30 Jun 2015
US-Europe trade pact adds to Switzerland's pain
by Roxana Zega and Jan Schwalbe
Swiss companies are struggling with the effect of the strong franc and stricter immigration rules. Now a deal to expand the world's biggest trade relationship may add another stumbling block.
"We are already at a disadvantage with the overvalued franc," Ivo Zimmerman, a spokesman of mechanical- and electrical-engineering trade group Swissmem, said in an interview. "An additional disadvantage would be painful."
The planned Transatlantic Trade and Investment Partnership between the European Union and the U.S. seeks to lower tariffs and expand common standards and regulations. It would encourage business between the two regions, possibly at the expense of Switzerland. The U.S. and the EU account for two-thirds of Switzerland's total trade.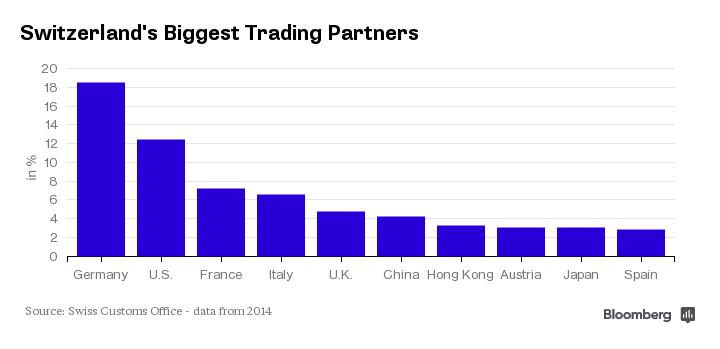 "It is going to affect Switzerland very much," Livia Leu, head of the bilateral economic relations division in Swiss State Secretary of Economic Affairs, told representatives of the Swiss-American Chamber of Commerce on Tuesday. "There is a fear we're going to be locked out and some of our companies discriminated."
Switzerland is in the process of negotiating trade agreements with emerging countries in Latin America and Asia, including Malaysia, Philippines and Vietnam, Leu said. "Switzerland is in need of open markets."
Not everyone is concerned. Swiss businesses including Kudelski SA believe the U.S.-EU trade agreement could become an opportunity for the country, which is on the brink of its first recession since the financial crisis as the strong franc takes its toll on exports.
"I don't understand why people are so afraid — we have some unique selling advantages,'' said Andre Kudelski, chief executive officer of the Swiss digital security company. "A bottle of good Swiss wine is sold quite expensive in the U.S. and people still buy it."
While Switzerland, which is part of the so-called European Free Trade Association, may be invited to co-sign the agreement without previously having participated in negotiations, not being part of a TTIP could result in 0.5 percent of gross domestic product being shaved off, according to the worst-case scenario in a University of Bern and World Trade Institute study. On the other hand, an agreement that includes EFTA countries among TTIP's signatories could add 2.9 percent to GDP, the study shows.
The negative case could increase the burden on Switzerland's contracting economy, said Zurich Insurance Group AG CEO Martin Senn.
"Without any doubt, it would accelerate a relatively low and downwards trend of economic activity," Senn told representatives of Swiss and American companies near Zurich on Monday.
With the 10th round of TTIP negotiations set to take place next month, the U.S. is looking at solutions for Switzerland, according to Suzan LeVine, the U.S. ambassador to Switzerland and Liechtenstein.
An outcome that takes account of Switzerland "is in the very best interest of the U.S.," LeVine said. "What that solution looks like, I don't know and the negotiators will not say."
Switzerland faces the additional challenge that signing a deal would require parliamentary approval. This could prove difficult, according to Swiss International Air Lines CEO Harry Hohmeister, who expects "massive" opposition from lawmakers.
Still, he doesn't see a way around the trade pact.
"TTIP is a must," he said. "There is no alternative to that."
---