US, India move to strengthen trade, investment ties
Reuters | Wed Mar 17, 2010
U.S., India move to strengthen trade, investment ties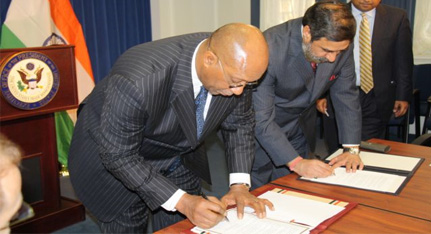 Doug Palmer
WASHINGTON (Reuters) - The United States and India signed an agreement on Wednesday to strengthen trade and investment ties, following through on a pledge leaders of the two countries made last year.
U.S. Trade Representative Ron Kirk and Indian Minister of Commerce and Industry Anand Sharma, whose countries have often been at odds in the Doha round of world trade talks, signed the framework cooperation agreement.
"There is almost limitless potential for growth in trade between our two countries and that can contribute to economic recovery and job creation in the United States and continued economic growth in India," Kirk said.
The pacts lays out a work plan for discussing barriers to trade in agriculture, services and manufactured goods and how to encourage greater bilateral investment flows and increased protection of intellectual property rights.
"We also intend to use this framework to encourage the development and deployment of clean energy and environmental technologies as well as to support India's infrastructure growth," Sharma said.
President Barack Obama hosted Indian Prime Minister Manmohan Singh for talks in Washington in November and plans to visit India later this year. Singh will be back in the United States next month for a nuclear nonproliferation summit.
U.S. exports to India have grown rapidly in recent years and remained relatively strong last year, even as the global economic crisis took a toll on trade around the world.
The United States exported about $16.5 billion worth of goods to India in 2009. That was only about 7 percent lower than 2008 and better than the 15 percent drop in total exports last year.
U.S. imports from India plunged 17.5 percent last year to about $21.2 billion but that was less than the 23.3 percent overall drop in imports last year.
Still, the $37.7 billion in two-trade between the United States and India last year was roughly one-tenth of bilateral trade between the United States and China.
India and the United States have clashed in the eight-year-old Doha round of world trade talks, with New Delhi demanding Washington make deeper cuts in agricultural subsidies and resisting U.S. demands to open its own agriculture, manufacturing and services markets.
Earlier this week, White House deputy national security advisor Michael Froman said the fate of the Doha round was largely in the hands of big developing countries like India.
"The question on the table is whether India, as well as the other major emerging markets, will do what it takes ... to make the Doha agreement feasible," Froman said.
(Editing by John O'Callaghan)
---