US-Peru free trade deal failed to enforce environmental norms
TeleSUR
US-Peru Free Trade Deal Failed to Enforce Environmental Norms
4 June 2015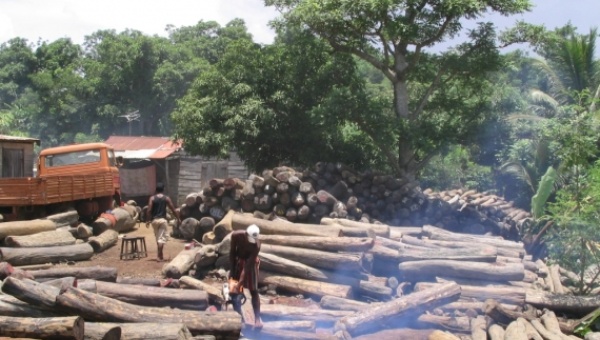 Environmental regulations have not been properly enforced within the U.S.-Peru free trade agreement, allowing illegal logging to continue more than ever, an environmental organization reported Thursday.
While Washington is currently negotiating two major trade agreements with Europe and Pacific countries, arguing that they will protect the environment, the Environmental Investigation Agency (EIA) claimed in a new report that the same promises failed to materialize in Peru.
In a bid to improve forest governance in the Andean country, where illegal logging has consistently been a serious issue, both governmnents had agreed to add an Annex on Forest Sector Governance in 2007, outlining a series of binding obligations on both parties.
However, the EIA's report has shown that no investigations have been made about such violations, nor mandated audits of producers and exporters, while suspect lumber shipments have also never been checked. The forest engineers responsible for submitting over 1,100 false annual operating plans for concessions – used for money laundering in illegal timber – have not been sanctioned either, the EIA decried.
"From the forest engineers that sign false forest inventories and the forest sector officers that approve them, to the exporters and importers that neglect to verify the legality of the timber, and the authorities that should be investigating and sanctioning them: all of these actors are facilitating the illegal timber laundering that destroys forests and violates human rights," said EIA's Peru Program Director Julia Urrunaga. "Despite the well-documented evidence regarding their illegal activities, almost nothing is being done to stop them."
Beside the failure of fighting against illegal logging, the U.S.-Peru deal was criticized over other adverse effects in terms of environment protection. For instance, the U.S.-based Renco company tried to avoid paying compensations to the families affected by abnormally high pollution levels in the area of La Oroya. Instead, Renco filed a lawsuit against Peru demanding US$800,000 in compensation, using the "investor state" dispute settlement regime of the trade agreement – a similar provision to the one included in TPP.
---