Vietnam's Parliament to ratify FTA with EU in May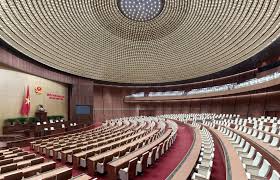 Prensa Latina - 16 April 2020
Vietnam's Parliament to ratify FTA with EU in May
The National Assembly of Vietnam will consider and most likely ratify the free trade agreement between Vietnam and the European Union (Evfta) when it holds its 7th Session next month.
Parliamentary sources confirmed this Thursday that this will be one of the main topics to be addressed by the Parliament when it meets from 20 to 25 May under very special conditions - through videoconferences - due to the Covid-19 pandemic.
On that occasion, the legislature will also surely give its approval to the Investment Protection Agreement between Vietnam and the EU (Evipa).
The leaders of the Communist Party, the State and the National Assembly have on numerous occasions expressed their determination to ratify the two treaties as soon as possible.
On 12 February last the European Parliament ratified the Evfta with 407 votes in favour, 188 against and 53 abstentions, and the Evipa with 401-192-40, a result that Vietnam interpreted as a clear sign of the EU's confidence in the strength of its economy and its capacity for integration.
Both agreements were signed in Hanoi in June last year.
A joint statement issued at the time called the first one 'the most ambitious free trade agreement between the EU and an emerging economy' and stressed that it is based on a mutual commitment to move towards 'open, fair and rule-based trade liberalisation and economic integration'.
---