Violence in W.Sahara raises concerns on EU fish pact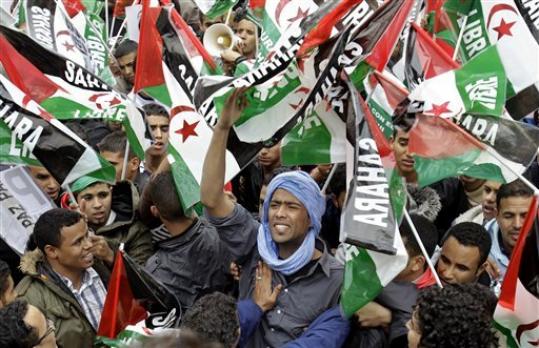 Reuters | 17 Nov 2010
Violence in W.Sahara raises concerns on EU fish pact
By Juliane von Reppert-Bismarck
BRUSSELS (Reuters) — Moroccan security force action against protesters in Western Sahara has boosted opposition in the EU to a treaty that would allow European fishing in waters off the territory, activists and EU lawmakers said on Tuesday.
"We will not accept an EU fisheries accord with Morocco if it includes the waters of Western Sahara," Raul Romeva, a Spanish lawmaker and member of the European Green party, told fellow deputies during a European Parliament hearing.
Romeva, who has led debate on the issue, said European lawmakers from across the political spectrum — including Socialists, Liberals, Conservatives and Greens — are beginning to question the accord, which is planned for March 2011.
At issue is the renewal of a four-year fishing pact whereby the EU acquires the right from Morocco to fish in its waters, including those belonging to Western Sahara, a former Spanish colony annexed by Morocco in 1975.
That annexation prompted a rebellion by the opposition Polisario Front. The United Nations brokered a ceasefire in 1991 but a political settlement to Africa's longest-running territorial dispute has eluded negotiators.
Polisario said in a letter to the U.N. Security Council on Monday that more than 36 Sahrawis protesting for better housing and working conditions last week died in clashes with Moroccan security forces and 163 were detained, and demanded a U.N. investigation of the clashes
The Moroccan government has denied excessive use of force and accused Sahrawi activists of "brutal practices" including cutting the throat of a Moroccan policeman.
In New York, a closed-door Security Council meeting was briefed by a senior U.N. peacekeeping official on Tuesday on the clashes and "deplored the violence," British Ambassador Mark Lyall Grant, current council president, told reporters.
The meeting ended without immediate action, diplomats said. Developing countries and human rights groups want U.N. peacekeepers in Western Sahara to take on rights monitoring, something Morocco and its ally on the council, France, oppose.
A senior Western diplomat said the divided council was unlikely to mount the fact-finding mission sought by Polisario but that there could be a case for it making a trip, possibly next year, to the territory, which it last visited in 1995.
SARDINES FOR EUROPE
In Brussels, Ivo Vajgl of the EU Liberal Democrats said EU deputies opposed to a new fishing deal should turn to their national governments for support.
European fishermen widely fish the waters of Western Sahara under a current 2007 agreement, mainly for sardines and octopus destined for European restaurants and processing plants.
Activists estimate about 70 percent to 80 percent of fish caught under the fisheries accord are caught in the disputed waters. That figure is disputed because of the difficulty in tracking fishing boats and the fish themselves.
The deal by the EU, which champions human rights and governance in its diplomatic and trade relations, contrasts with an agreement between the United States and Morocco, whose effects stop at Morocco's southern border with Western Sahara.
Responding to mounting concerns, EU fisheries chief Maria Damanaki has said the EU Executive Commission can only propose a renewal if Morocco proves the deal will benefit Sahrawis.
"For that to be substantiated, an assessment needs to be carried out. This assessment would have to be based on solid information and facts. There is no other way," Damanaki told EU deputies last month.
EU deputies on Tuesday said any assessment should include input from Polisario.
Aminatou Haidar, a prize-winning human rights activist, warned against unchecked mining operations for Western Sahara's phosphates and sands, which — unbound by state-to-state accords — are largely being exploited by foreign operators.
"This will extinguish the mining resources of Western Sahara. It will have very serious repercussions on Western Sahara's economy and environment," Haidar told deputies.
---