Waitangi Tribunal backs TPP treaty clause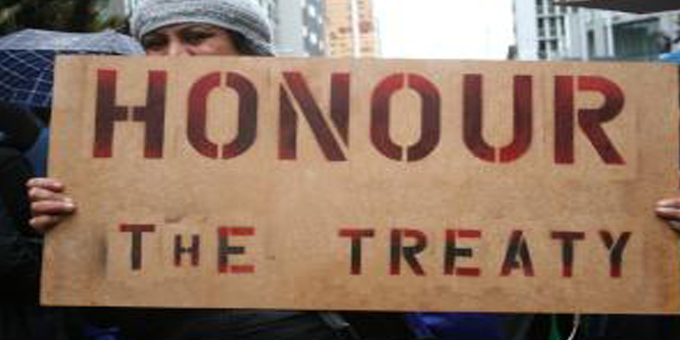 Radio NZ | 5 May 2016
Waitangi Tribunal backs TPP treaty clause
by Shannon Haunui-Thompson
The Waitangi Tribunal has backed the Treaty of Waitangi clause in the Trans Pacific Partnership trade deal.
In a report released today the tribunal said the treaty clause in the TPP should provide reasonable protection for Māori interests.
But it's worried that the right of foreign investors to bring claims against the government might affect the Crown's ability to meet its treaty obligations.
This "may have a chilling effect" on the Crown's willingness or ability to do so, the report said.
Arguments over the clause were among nine separate claims from more than 20 claimants the tribunal heard under urgency earlier this year.
The clause in the TPP allows the Crown to give favourable treatment to Māori and fulfill its treaty obligations.
Claimants had argued that the clause wouldn't protect their treaty rights.
Constitutional lawyer and claimant Moana Jackson said his initial reaction to the tribunal's decision was more than disappointing.
"The main weakness is that the Crown decides whether there is a possible breach of treaty, and seeing the Crown is responsible for every other Treaty breach that has occurred, it's rather like the Crown being a judge in its own court."
An expert advisor to the claimants, Professor Jane Kelsey, said the response was pragmatic.
"The prospect that the tribunal was ever going to turn around and say the government shouldn't ratify or it should go back and re-negotiate I think was very limited.
"Whilst it's saying its reasonable protection, the tribunal itself is troubled, it's made some pretty clear indications that the process needs to be fixed up."
Māori singer Moana Maniapoto was part of the hikoi against the TPP earlier this year and said the findings were disappointing but not unexpected.
"The lack of information that the tribunal got made it difficult to predict what might happen in the future, and I stand by my statement that the government's attitude and behaviour towards Māori, actually all New Zealanders and claimants in the tribunal process, is absolutely contemptuous."
The report recommended further dialogue between the Crown and Māori over treaty clauses in future trade agreements.
The tribunal made no findings on claims about the TPP consultation process, intellectual property and changes to Pharmac.
---