Where are the EU sanctions on Israel?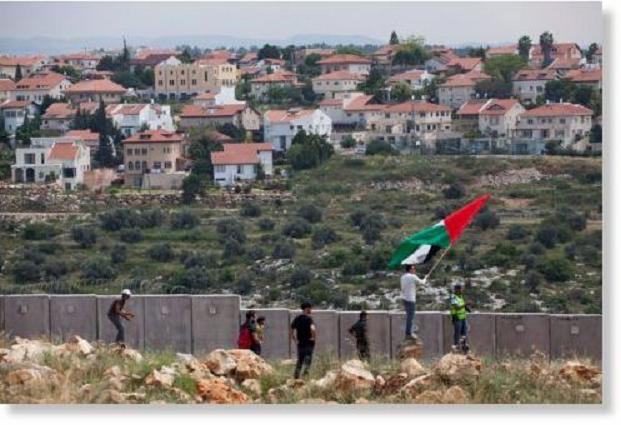 Al Jazeera | 24 Nov 2014
Where are the EU sanctions on Israel?
The BDS movement will grow if the EU does not sanction Israel.
Sharif Nashashibi
Israeli newspaper Haaretz recently reported on an internal European Union draft document proposing sanctions against Israel if its government continues to act in ways that render a two-state solution impossible. The revelations were quickly and widely disseminated on social media, and touted as a sign that the EU had had enough of Israel's intransigence.
However, those hopes were swiftly dashed by the bloc's new foreign policy chief Federica Mogherini, who last week denied that there were plans to sanction Israel. A discussion among EU foreign ministers was more about "how to start a positive process with the Israelis and Palestinians to relaunch a peace process", she said. "It was not at all a question of isolating or sanctioning anybody."
It is an intriguing affair, given that Haaretz is a respected newspaper whose articles on the issue seem to be well researched, sourced and verified. Indeed, Mogherini's denial came on the same day that Haaretz published the EU document.
It is deeply disappointing that sanctions may not even be considered. Article 2 of the EU-Israel Association Agreement, which forms the legal basis of their relations, states that those relations "shall be based on respect for human rights and democratic principles". When it comes to the Palestinians, Israel is in blatant violation of this article.
Obstructive and destructive
Worse still is Mogherini's public denial that sanctions are an option. The message this sends to Israel's government is that it has carte blanche to continue its obstructive and destructive policies unimpeded. In the current climate of a radicalised Israeli polity and society, as well as tensions and unrest not seen since the last Palestinian uprising, this is extremely irresponsible and dangerous.
Israel's actions in the week since Mogherini's denial already display a total disregard for EU concerns. Two days after the bloc's foreign ministers condemned plans for new settlement-building, Israel announced more illegal colonisation of occupied territory (in addition to the thousands of settlement homes recently announced).
Israel also rejected an appeal by the EU's five biggest members — Germany, France, Britain, Italy, and Spain — not to demolish more Palestinian homes, a practise that Human Rights Watch said on Friday "amounts to collective punishment, a war crime". Why would Israel listen to the EU or its member states when it knows there will be no punitive measures?
The EU is choosing to squander the decisive leverage it could have over Israel as the latter's largest trading partner. This only adds to Israel's sense of impunity, which is also nurtured by vast and unquestioning US support, including US veto power that renders the UN Security Council paralysed and irrelevant regarding the Israeli-Arab conflict.
Mogherini's statement will undermine the significance of ongoing legislatives votes in various EU member states to recognise Palestine. It will also vindicate those who think such steps are purely symbolic, and will lessen pressure on governments to reflect the will of their own parliaments.
EU inaction would also go against public sentiment in Europe, where opinion polls have consistently shown that those who sympathise with the Palestinians far outnumber those who support Israel, even in countries whose governments have close ties with the latter.
BBC World Service polls of international views on Israel over the last three years show that among EU member states, the highest percentage of positive sentiment was only 21 percent (in France), and was as low as 4 percent (in Spain in 2013). Positive sentiment was also in single digits in Germany last year (8 percent). As such, EU inaction over Israel's treatment of the Palestinians is woefully out of step with public opinion and that of elected MPs.
More bark than bite
Even without Mogherini's denial, a number of the sanctions reportedly floated are not particularly strong. According to Haaretz, they include "coordinated condemnations of the settlements; joint protests to the foreign ministry and prime minister's office; and more sharply worded communiques on the Israeli-Palestinian issue after the European Union's monthly foreign ministers' meetings". In other words, the EU may stop saying please.
"There is also a proposal to reconsider the European Union's commitment not to participate in debates at the UN Human Rights Council under Clause 7, which relates specifically to the state of human rights in the West Bank," Haaretz reported. However, it is unclear how EU participation would make a difference when Israel has consistently ignored the council's resolutions since its creation in 2006.
Other sanctions reportedly include "marking products manufactured in the settlements in EU supermarkets" (not prohibiting their sale), "limiting cooperation with Israel in various areas" (not stopping it), and "restrictions on the free-trade agreement with Israel" (not reconsidering the agreement itself).
None of this sounds like it would give Israel cause for serious concern.
"Labelling settlement products, implementing the EU-Israel trade agreement properly, and distinguishing between the occupied Palestinian territories and Israel are not really sanctions in my opinion," an expert on international law regarding the Israeli-Arab conflict, who has written extensively on EU relations with Israel, told me.
This whole affair makes the EU look supine, but it is not cause for Israeli celebration. The tide of European public opinion continues to turn against Israel — this cannot be indefinitely ignored or defied.
Furthermore, the Boycott, Divestment and Sanctions movement against Israel continues to make significant gains in Europe regardless of individual governments' stances. EU inaction is likely to further bolster BDS if it is seen as the only effective avenue for European rejection of Israeli policies.
Sharif Nashashibi is an award-winning journalist and analyst on Arab affairs. He is a regular contributor to Al Jazeera English, Al Arabiya News, The National, The Middle East magazine and the Middle East Eye.
---