Women rally against EU-India Free Trade Agreement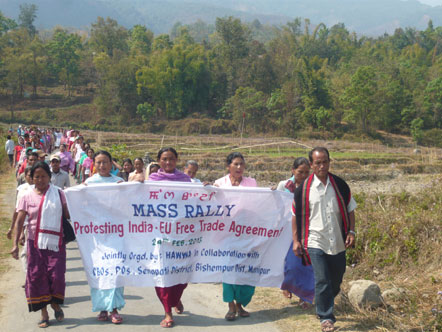 Hueiyen News Service / Newmai News Network | 25.2.2013
Women rally against EU-India Free Trade Agreement
Imphal, February 25 2013 — Flooding of Chinese goods in Manipur through the border town Moreh has caused serious concern for large number women whose occupations have become under threat because of it.
A local NGO for women in the village of Namoi in Manipur's Bishnupur district has apprised the Prime Minister through a memorandum that more than 2 lakhs women in Manipur have lost their traditional occupations as they have been replaced by "cheap Chinese products" after the Indo-Myanmar Trade Agreement came into force.
A public rally-cum-public meeting against the European Union-India Free Trade Agreement (FTA) was organized at Namoi Khun yesterday wherein hundreds of people took part.
The rally which was started from Waroi Ching Lai Lampak took out till Laimaram Bamon Leikai Community Hall where the public meeting was held.
It was organized by Heinoubok Awang leikai Women's Association in collaboration with People's Organisation and Civil based Organisation.
The demonstrators chanted slogans like "Say No to EU-India FTA, "Save Manipur Save the Farmers, Stop EU-India FTA, "Free Trade Agreement Permits Destruction of a State, and "Farmers are the Feeders of the Nation, Save Agriculture Save the Farmers.
"A memorandum has been submitted to the Prime Minister through Fax regarding the plight of the women in the state who have lost their income sources due to cheap Chinese products," M Bebicha, social activist told Newmai News Network on the sidelines of the demonstration.
The memorandum also mentioned that lives and livelihood prospects have been adversely affected by the ongoing agricultural land acquisition and grabbing undertaken by the Government in the name of various development projects in the state.
It maintained that Manipur was self-sufficient in food about 30 years back, but today, the state has become dependent on 60 percent of food imports, mainly rice from outside the state.
Apart from the difficulty of meeting the daily requirement of food, more than 2 lakhs women have lost their traditional occupations, which otherwise helped them in meeting ends in terms of running a family, since the signing of Indo-Myanmar Trade Agreement.
Handicraft and handloom products such as handmade mosquito nets, quilts, bamboo baskets have been replaced by cheap Chinese products on account of the trade agreement, the memorandum further mentioned.
---