Women's rights groups in Asia Pacific express relief on collapse of TPP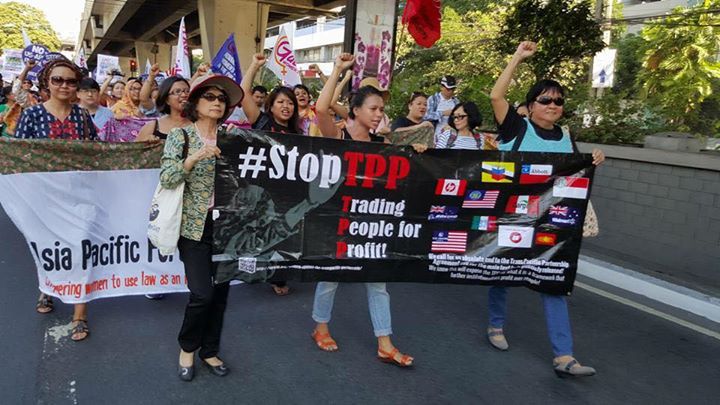 APWLD | 10 November 2017
PRESS RELEASE: Women's rights groups in Asia Pacific express relief on collapse of TPP
UPDATE: Trans-Pacific trade deal advances without United States
Women's Rights Organisations expressed support for Canada's reluctance to finalise the TPP11 negotiations at the APEC meeting today calling it a deal that would "deepen inequality" and "trade people for profit". Canada is reported to have prevented the finalisation of the TPP having previously raised concerns around cultural protection, labour rights and gender equality.
"The TPP seeks to cement neoliberal economics in the region and extend, even further, the power of multinational corporations over policy making," said Kate Lappin of the Asia Pacific Forum on Women, Law and Development (APWLD). "Trade agreements extend the areas that multinationals can invest in through privatisation, they deprive governments of revenue, they reduce regulation and important environmental and social safeguards, they make medicines, health care, energy and water more expensive, they deny women the capacity to save and share seeds and they can even prevent governments from using affirmative action to support women," she added.
Canada is one of the first countries to recognise that trade agreements can have an adverse impact on women's human rights and have recently sought to include gender equality chapters in trade agreements, as they did in the Canada-Chile agreement recently. According to APWLD these chapters provide inadequate protection but are a positive sign that governments recognise the impact trade has on women's human rights.
Unfortunately, the gender equality chapter is not enough to prevent trade agreements from negatively impacting on women according to APWLD. Like the labour chapters that have been inserted in previous agreements, it is mainly window dressing and unenforceable.
"The TPP is particularly dangerous for indigenous and rural women. It threatens our land, food and seed sovereignty, environment and our cultural heritage. It puts the profits of multinational corporations above the right of Indigenous peoples to make decisions over our food, our water, our livelihoods, our earth," said Vernie Yocogan-Diano, an indigenous women's leader from the Philippines, attending the ASEAN People's Forum.
Governments would have to conduct a gender and human rights impact assessment prior to finalising a trade deal and they would need to make sure that all measures governments take to advance human rights, environmental protections, Indigenous rights and culture and gender equality are allowable, cannot be regarded as a trade barrier and would never be subject to a dispute. "A trade agreement designed to advance women's human rights could be possible, but it would look almost nothing like the TPP," added Kate Lappin.
This week women's rights groups from across Asia are meeting in Manila at the ASEAN People's Forum where the impact of trade on human rights and inequalities will be one of the discussion points. The potential for a People's Trade Agenda, rather than a corporate trade agenda, will be explored.
About APWLD

Asia Pacific Forum on Women, Law and Development (APWLD), a leading network of feminist organisations and grassroots activists in Asia Pacific. Our over 200 members represent groups of diverse women from 27 countries in Asia Pacific. Over the past 30 years, APWLD has actively worked towards advancing women's human rights and development justice. We are an independent, non-governmental, non-profit organisation and hold consultative status with the United Nations Economic and Social Council. F:apwld.ngo T:@apwld
For Further Information Please Contact
Vernie Yocogan-Diano
vernieydiano@gmail.com
+63-918 907 7957
Langauges: English, Tagalog
Neha Gupta
neha@apwld.org
+63-927 352 4239 (Call)/+66-955 282 396 (Whatsapp)
Languages: English, Hindi
---