Workers union in Peru rejects free trade agreement with the US
LIP | 8 November 2007
Workers Union in Peru Rejects Free Trade Agreement with the US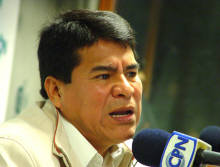 (LIP-ir) — One of Peru's strongest workers unions, the General Workers Confederation of Peru (CGTP) announced today that it did not agree with the approval of the US-Peru free-trade pact passed by the US House of Representatives today.
The CGTP made this announcement after it concluded a daylong national strike that took over several of Lima, Peru's streets this afternoon.
Now that the free-trade pact is in its final stage and will soon be voted on by US Senate, Mario Huamán, head of the CGTP stated that the approval of the bilateral treaty would seriously affect Peru's economy.
In a speech given on the corner of Abancay Avenue and Jirón Cusco, Huamán stated that by signing the free-trade pact with the US, "We are kneeling to yankee imperialism". Furthermore, the union leader assured that only two percent of Peru would benefit from the new deal with the US.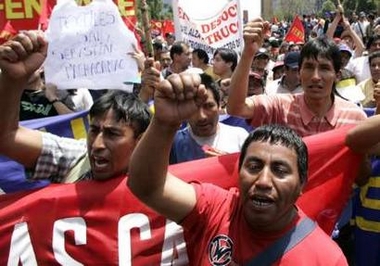 He affirmed that only executives, a small portion of the population, would be able to take advantage of the free-trade agreement. Huamán questioned Peru's government's economic policies and stated that it was not complying with labor laws.
Thousands of workers congregated at Plaza Dos de Mayo today and began marching through the streets of Peru's capital at approximately 10 a.m. Some demands are a higher minimum wage and better distribution of government funds.
---