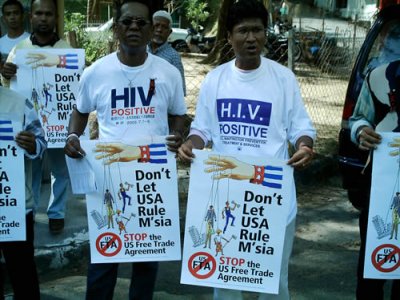 Having signed a Trade and Investment Framework Agreement on 10 May 2004, the US and Malaysia agreed in early 2006 to start negotiating a bilateral Free Trade Agreement. US negotiators indicated that they expected to conclude talks by the end of 2006 but that was not to be.
The Malaysian government has been putting up a fight on various issues such as government procurement (which Malaysia does not want to open to US participation) and its Bumiputra policy (giving special preferences to ethnic Malays). Social movements, on the other hand, reject the talks particularly in terms of the implications of a deal on access to medicines, intellectual property and Malaysia's autonomy to set policies. The negotiations have stalled since 2009, and are now effectively on ice.
last update: May 2012
Photo: Third World Network
---
The United States and Malaysia have signed an agreement to set up a special forum to address trade issues, Washington's fifth such pact with export-driven Southeast Asian nations.
A US-Malaysia FTA will demand strong obligations from Malaysia. It will push us towards greater liberalisation. Complain as we may that such an FTA will be an instrument of economic imperialism, it will not be pragmatic to deny it.
Links

---

It aims to removing constraints on trade and investment activities in ASEAN, and elevating the importance of the U.S.-ASEAN economic relationship to American and ASEAN public policy makers and business leaders.