12-country TPP talks end without a breakthrough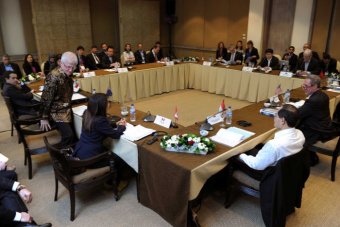 Japan Times | Apr 27, 2015
12-country TPP talks end without a breakthrough
Kyodo, JIJI
WASHINGTON – Chief negotiators from 12 countries aiming to forge a Pacific free trade initiative finished four days of talks on Sunday, a Japanese official said, apparently without making major progress.
The trade officials from the United States, Japan and 10 other countries gathered in a Washington suburb with intellectual property, including data on new drugs, and reform of state-owned entities as their main issues, according to negotiation sources.
The meeting of chief TPP negotiators resumed after a bipartisan group of influential U.S. lawmakers introduced a bill seen as a key step to aiding the multilateral negotiations.
The bill is aimed at granting President Barack Obama trade promotion authority (TPA), which would enable him to sign trade deals including the U.S.-led TPP by only asking the legislature to vote yes or no without amendments. It has now passed the relevant committees of the Senate and House of Representatives and is awaiting plenary discussion.
The gathering in Washington came after TPP officials held a meeting in Hawaii last month, which also ended without a breakthrough.
Obama and Prime Minister Shinzo Abe are expected to discuss trade issue in their summit on Tuesday. The U.S. and Japanese economies account for a combined 80 percent of the envisioned TPP area.
Enacting the trade promotion authority bill would likely help the negotiations, which date back a number of years, as participating countries would no longer need to worry as much about whether their make-or-break proposals to Washington could be rejected by lawmakers there.
If it comes into force, the TPP, which also involves Australia, Brunei, Canada, Chile, Malaysia, Mexico, New Zealand, Peru, Singapore and Vietnam, would account for some 40 percent of the global economy.
Meanwhile, a key Obama aide on Friday indicated the United States and Japan were unlikely to announce a bilateral agreement on the proposed TPP agreement during Abe's U.S. visit, which began Sunday.
Tuesday's Abe-Obama summit will be "a good opportunity" for them to review progress in bilateral talks on the TPP, Caroline Atkinson, deputy national security adviser for international economics, said in a conference call.
Atkinson said she hopes that the two leaders "will be able to have a constructive conversation," following three-day talks in Tokyo through Tuesday between TPP minister Akira Amari and U.S. Trade Representative Michael Froman.
Still, she said: "We are not there yet to a final deal, and more work is needed."
"We are not expecting to reach any formal announcement" during Abe's U.S. visit, she added.
Progress between the United States and Japan is "a critical element for taking forward the broader discussions on TPP," Atkinson said.
The recent start of U.S. congressional discussions on TPA will give "positive momentum" to the TPP negotiations, Atkinson said.
---