At summit, Kerry's visit draws 100 anti-TPPA protestors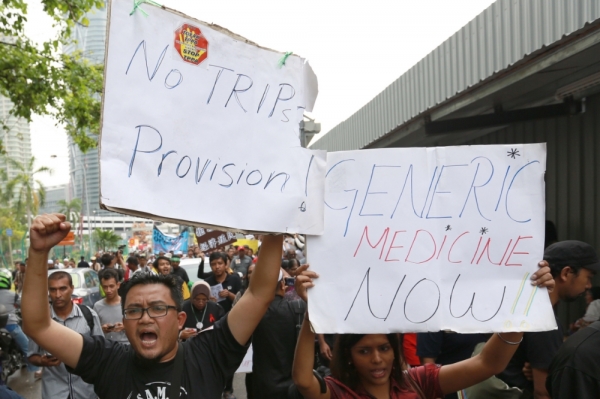 The Malay Mail | 11 Oct 2013
At summit, Kerry's visit draws 100 anti-TPPA protestors
By Boo Su-Lyn
KUALA LUMPUR, Oct 11 — About 100 people railed today against the controversial Trans-Pacific Partnership Agreement (TPPA) here as US Secretary of State John Kerry rubbed shoulders with Malaysian government officials at an entrepreneurial summit in the capital city.
The protesters, including Socialist Party of Malaysia's (PSM) Dr Michael Jeyakumar Devaraj, PKR's Chua Tian Chang, and PAS' Salahuddin Ayub, rallied against the proposed free trade agreement spearheaded by the US, saying that it would benefit American corporations at the expense of ordinary Malaysians.
"If we sign the TPPA, we will suffer," Jeyakumar told the crowd outside the Suria KLCC shopping mall here today, during Kerry's appearance at the 4th Global Entrepreneurship Summit 2013 in the nearby Kuala Lumpur Convention Centre.
"In the US, 200 corporations determine the terms and conditions of the agreement," he added.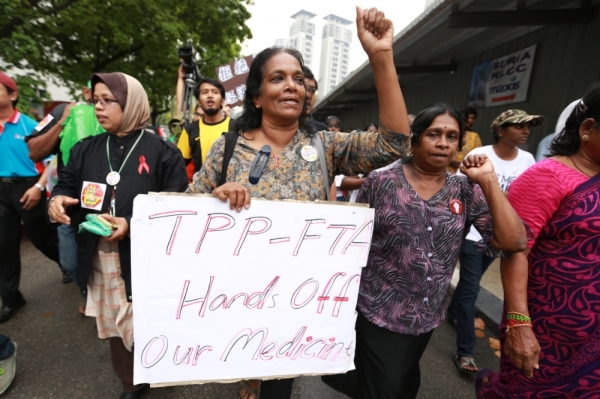 National news agency Bernama reported Prime Minister Datuk Seri Najib Razak as saying last Sunday that the TPPA, which involves 13 countries including Malaysia, is not expected to be concluded by the end of the year.
Protesters say that the TPPA only benefits American corporations.Protesters say that the TPPA only benefits American corporations.Critics of the TPPA claim that the agreement will increase the price of medicines and make government policies subservient to the interests of large corporations.
---