A summary of public concerns on investment treaties and investor-state dispute settlement
Third World Network | December 2018
A summary of public concerns on investment treaties and investor-state dispute settlement
By Martin Khor
Year: 2018 No. of pages: 24
ABOUT THE BOOK
International investment agreements, specifically bilateral investment treaties and the investment chapters in free trade agreements, have come under the spotlight for what are seen as skewed provisions that grant excessive rights to foreign investors and foreign companies at the expense of national policymaking flexibility. Of particular concern is the investor-state dispute settlement framework embedded in many of these treaties, which enables foreign investors to sue host-country governments in opaque international tribunals.
The serious risks involved have prompted a rethink of investment pacts in developing and developed countries alike. In place of the current lopsided system, calls are growing for agreements which would balance legitimate investor rights with the rights of the state to regulate investment and formulate policies in the public interest.
MARTIN KHOR is adviser to the Third World Network. A Cambridge-trained economist, he is the author of many books and papers on trade, development and environmental issues.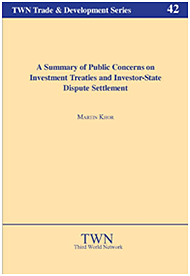 Contents
1 Introduction
2 Controversial Provisions of Investment Treaties
3 Problems with the Investor-State Dispute Settlement System
4 High Claims and Awards, and Strong Enforcement
5 Some Implications of BITs and ISDS
6 Tide Turning Against Investment Treaties
7 Conclusion
How to Order the Book
Visit our TWN Online Bookshop or contact Third World Network at 131 Jalan Macalister, 10400 Penang, Malaysia.
Tel: 604-2266159
Fax: 604-2264505
Email for further information.
---