A system of secret arbitration tribunals is undercutting climate action worldwide
All the versions of this article: [English] [français]
DeSmog | 27 September 2023
A system of secret arbitration tribunals is undercutting climate action worldwide

By Isabella Kaminski
Investors in foreign development projects have "weaponized" a system of secretive tribunals, delaying progress on climate change and other environmental crises and having "enormous impacts on human rights," according to a new report by a United Nations expert.
David R. Boyd, the UN's special rapporteur on human rights and the environment, concludes in the report that these controversial arbitration mechanisms, which are contained in thousands of investment treaties, have led to "exorbitant damages awards against states, permits granted for environmentally destructive activities and the rollback of vital rules addressing climate change, biodiversity loss and pollution."
Boyd is calling on states to reform or leave these treaties.
"Investor-state dispute settlement" (ISDS) mechanisms allow companies to sue national governments if they believe regulation or unfair competition is impeding their investments. The disputes are ruled upon by tribunalswhich include arbitrators appointed by both sides, rather than regular courts. These tribunals can levy huge financial penalties on nations if they decide for the investors.
Boyd found that the number of known ISDS cases targeting environmental protections has "skyrocketed" in recent years, with nations ordered to pay more than $100 billion in damages to coal, oil, gas, electricity, and mining firms.
Boyd also found that governments trying to fulfill their Paris Agreement commitments may be liable to oil and gas corporations for a further $340 billion in future cases, creating "a major disincentive for ambitious climate action."
Even the threat of such cases is having a chilling effect on public environmental policy, Boyd has found.
ISDS mechanisms are also affecting fundamental human rights. "The rights to life, health, food and water, cultural rights and the right to a clean, healthy and sustainable environment are being violated and will continue to be violated, and the rule of law will continue to be undermined, unless the ISDS system is eliminated," Boyd reports.
Despite their impacts, ISDS cases are cloaked in secrecy. They are conducted in private, documents are often confidential, and both awards and negotiated settlements may never be publicly revealed. Even the existence of a claim can be concealed.
Boyd argues that, unlike arbitration between two private parties where confidentiality might be justified, the participation of states means that ISDS arbitration "often involves important public policy issues and can have huge economic implications,"with billion-dollar claims "becoming routine in climate and environmental cases, representing a gold mine for foreign investors."
The law firm Jones Day frames ISDS climate claims as "an opportunity – if brought in the right forum – for companies exposed to certain climate-related government measures to vindicate their rights." As DeSmog has reported, Jones Day's clients have included major energy companies such as Chevron and Southern Company, as well as private equity firms with fossil fuel holdings, like Goldman Sachs and Carlyle Group.
However, these claims have become an "economic nightmare" for low and middle-income states. In 2017, a London arbitration tribunal ordered Nigeria to pay $6.6 billion in damages to Process & Industrial Developments (P&ID) for lost profits related to a failed gas project. With interest, that figure has now grown to more than $11 billion, equivalent to 30% of Nigeria's foreign exchange reserves. The country is trying to appeal the ruling.
The report says the ISDS system is "perpetuating extractivism and economic colonialism. The overwhelming majority of fossil fuel and mining ISDS claims are brought by investors from the global North against respondent States in the global South."
While ISDS mechanisms are present in most investment treaties, some multilateral agreements have gained particular attention for how they are impeding climate action.
Among them, the Energy Charter Treaty, first discussed in the 1990s between Western and post-Soviet states and now with 53 signatories, has increasingly been used by fossil fuel companies to try and claw back financial losses stemming from environmental and climate policies. Last year, for example, Italy was ordered to pay more than $200 million plus interest to UK oil company Rockhopper as compensation for an offshore oil drilling ban.
Boyd's interest in this topic was sparked during a 2022 visit to Slovenia, when he learned that the country was being sued for around $525 million by UK firm Ascent Resources for refusing to permit fracking for gas. Ascent Resources brought the claim under two agreements: the Energy Charter Treaty and a bilateral investment treaty between Slovenia and the UK.
12 largest-known awards by investor-state dispute settlement courts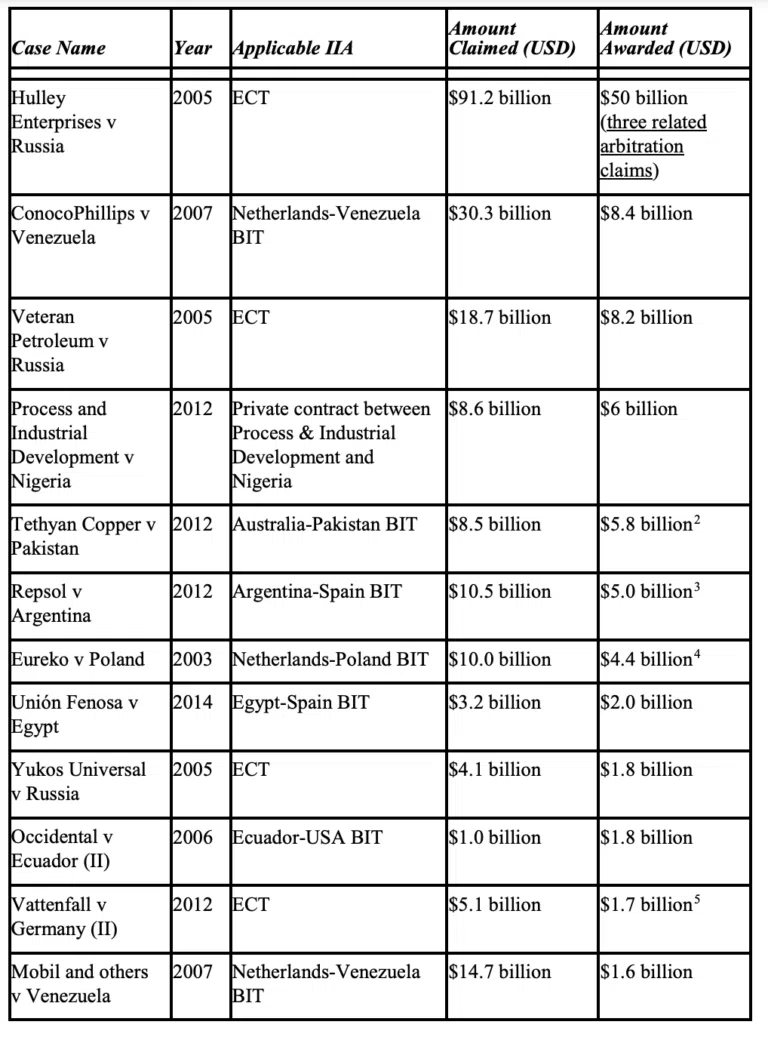 According to academics at Boston University's Global Development Policy Center who submitted evidence to Boyd's investigation, there is a common theme across ISDS cases: The "existence of public pressure to act on climate change is used by investors as evidence that government decisions are 'politically motivated' and thus illegitimate."
Boyd concludes: "This unjust, undemocratic and dysfunctional process has sparked a legitimacy crisis in the international investment regime."
To address the problem, he recommends that governments withdraw their consent to arbitration under existing investment treaties, and either negotiate the removal of ISDS mechanisms from treaties or terminate existing agreements that include them, including the Energy Charter Treaty. Boyd also urges nations to negotiate new agreements that protect human rights and the environment.
Negotiations on "modernizing" the Energy Charter Treaty to shield climate regulations and technologies have been underway for several years. The UK, which is actively considering amended terms that would remove protections for new investments in fossil fuels, said it would review its membership in the treaty if states do not reach an agreement by November. Its official climate advisors have already advised it to leave.
Meanwhile, the European Union as a whole says leaving the treaty is "unavoidable" on the grounds that remaining would "clearly undermine" climate targets. Individual EU member states, including Spain, Germany, and France, have already pledged to quit.
Even if this happens, though, most investment treaties have "sunset" clauses which can bind states to them for years to come.
In 2016, TransCanada — since renamed TC Energy — sued the U.S. government under the North American Free Trade Agreement (NAFTA), over the Obama administration's decision to cancel the Keystone XL tar sands pipeline on the grounds that it was incompatible with climate action.
While NAFTA was replaced in 2020 by the U.S.-Mexico-Canada Agreement (USMCA), which removed ISDS between the U.S. and Canada, TC Energy's lawsuit is still in play.
Boyd is not the first to raise fundamental concerns about ISDS. In 2022, the U.N. Intergovernmental Panel on Climate Change (IPCC) said that trade and investment treaties may be limiting countries' ability to cut their emissions.
A recent review of climate litigation by the UN Environment Program (UNEP) and the Sabin Center for Climate Change Law at Columbia University considers ISDS cases as part of an anti-climate legal "backlash."
"The more compelling the need to adopt ambitious and abrupt measures to pursue climate objectives," the review states, "the higher the risk of ISDS cases being brought against host States."
---