Act to ease free-trade impacts passed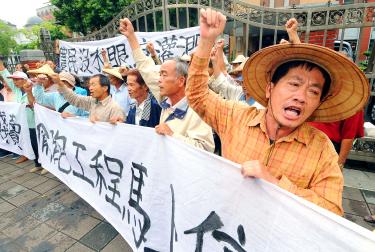 Taipein Times | 16 December 2015
Act to ease free-trade impacts passed
By Alison Hsiao
The legislature yesterday passed the Act of Providing Support in Response to Trade Liberalization (因應貿易自由化調整支援條例), stipulating that the government should establish a fund to assist negatively impacted industries to weather any damage caused by market liberalization.
The act states that the "fund for supporting and adjusting [the impacted industries] to trade liberalization" should be established by the Executive Yuan, which provides a legal and financial basis for future governmental measures aimed at supporting industries and individual enterprises.
The new law, which still needs the president's approval before being promulgated, would require the Ministry of Labor to offer "appropriate supporting aids" to people working in negatively impacted industries and companies.
Under the act, "observing mechanisms" are to be set up before economic agreements are signed, to understand how well industries are prepared for trade liberalization and a consultation service should be provided to the enterprises after the agreements are signed.
The attached resolutions — which are not legally binding — call for the Council of Agriculture to adjust the nation's agricultural structure accordingly and offer employment and daily living assistance to agricultural workers and fishermen negatively impacted by free trade.
According to the Executive Yuan's draft bill proposed in September, the NT$10 billion (US$302.79 million) fund would be allocated over a 10-year period to medium and small-sized enterprises; with each business gaining a maximum of NT$5 million.
In related news, the Personal Information Protection Act (個人資料保護法) was yesterday amended to protect personal information concerning medical records, genetic information, sexuality, health checks and criminal records from unauthorized collection, handling and use.
"The significant change made by the amendment is that in principle, no sensitive personal information should be collected, handled or used, with exceptions only being granted via legal orders or when official institutions are performing their tasks," Democratic Progressive Party Legislator Yu Mei-nu (尤美女) said.
"Necessary security measures also have to be carried out both before and after the use of the information. Written consent, which should not be forcefully obtained, has to be garnered from the person whose sensitive information is collected, handled and used," she added.
---