Africa business blocs set rules for free trade areas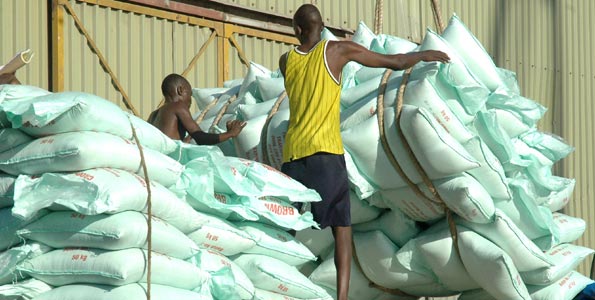 Business Daily News, Kenya
Africa business blocs set rules for free trade areas
By Allan Odhiambo
25 August 2010
Three regional trading blocs have created a draft agreement which paves the way for the setting up of a $624 billion free trade area.
The draft includes 14 annexes that deal with rules of origin, intellectual property rights and dispute settlement, among other provisions.
"The draft contains proposals on common rules that would govern the trade regimes and bring them together into a seamless platform," Mr Sindiso Ngwenya, the secretary-general of the Common Market for Eastern and Southern Africa (Comesa) told delegates at the bloc's ongoing annual summit in Swaziland.
"But the economic blocs will not be dissolved and only the rules governing key areas such as common external tariffs will be adjusted to make things level across the fabric."
The East African Community (EAC), the Southern Africa Development Community (Sadc) and Comesa agreed two years ago to form the free trade area (FTA) covering more than 527 million people.
"The integration would address the practical reality of overlapping memberships in our region," Mr Ngwenya said, adding that the respective secretariats had drawn up a roadmap to guide the process.
Mr David Nalo, the permanent secretary at the East African Community Affairs ministry said individual countries had made proposals for consideration in the on going grand FTA talks.
All EAC states are members of Comesa that has also attained the second level of integration which is a customs union status.
Kenya is among countries that have already floated new proposals that could help defray the threats posed by the disparities of economies that will be covered in the planned inter-connectivity of Africa's three regional market blocs.
The relative higher ranking nature of the economies of Kenya, South Africa and Egypt has been cited as a potential drawback to a grand FTA dream.
In February, Trade permanent secretary Adbulrazaq Ali admitted that the superior nature of the three economies could jeopardise the merger plans but pointed out that the danger could be addressed.
Key among the proposals by Kenya is that the regional blocs adopt a flexible framework that accommodates the needs of the individual countries participating in the grand FTA negotiations.
It also proposes the creation of transitional measures that would be supported by programmes to help disadvantaged countries adjust to adversity that may come with the shift.
"The measures may also include taking into account existing market access conditions, including economic partnership agreements (EPAs)," Mr Ali said in Nairobi when he addressed a meeting of CEOs of business organisations from eastern and southern Africa (ESA).
---