Anti-NAFTA protest "greets" North American leaders in Guadalajara
Xinhua | 2009-08-10
Anti-NAFTA protest "greets" North American leaders in Guadalajara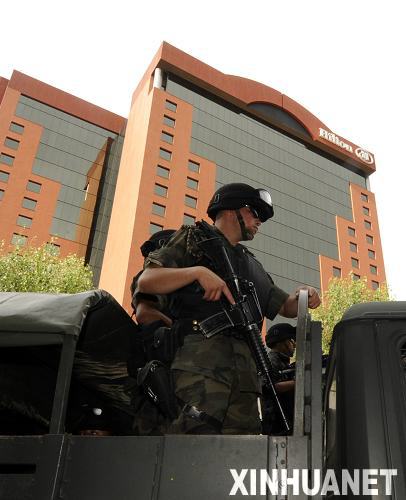 GUADALAJARA, Mexico, Aug. 9 (Xinhua) — At least 300 people on Sunday demonstrated against the Fifth North American Leaders' Summit, being held in Guadalajara, capital of western Mexico state Jalisco.
Ahead of late Sunday meeting of leaders of the United States, Mexico and Canada, members of the Alternative Social Organizations Movement rallied to demand a renegotiation of the three nations' main treaty, the North American Free Trade Agreement (NAFTA), which came into force 15 years ago.
"We demand another development model for Mexico," Jose Luis Sanchez Gonzalez, one of the organizers told Xinhua. The demonstrators protested at the cross roads of main streets Chapultepec and Vallarte, close to the city's U.S. consulate. "We are NAFTA critics."
The protesters want to see tariffs imposed on corn and bean imports into Mexican markets in which they say Mexican producers have suffered due to the treaty. Non-government organizations the National Liberation Movement and No Corn No Nation are also hosting a rival discussion forum in Guadalajara about the North American relations. The protest came off without incidents of violence.
The summit begins officially at 7.15 p.m. local time with a dinner at the Cabanas Cultural Center in Guadalajara. The main talks will start on Monday morning, with security, the environment and the world economic crisis high on the agenda.
---