Anti-TPPA protesters lock themselves to railway track in Christchurch video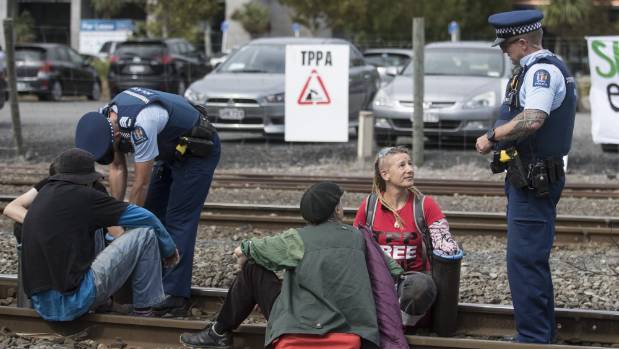 Stuff | 1 March 2018
Anti-TPPA protesters lock themselves to railway track in Christchurch video
by JONATHAN GUILDFORD
The threat of arrest has driven out six protesters who locked themselves to Christchurch train tracks to show their disapproval of the new TPP.
The protesters locked themselves to the tracks on Thursday morning while another 30 held banners just off Lincoln Rd in Addington.
Protester Gen de Spa said the group eventually agreed to leave to avoid arrest.
"The police don't want to arrest us so we have agreed that we will unlock ourselves from the track voluntarily and that we will be trespassed, obviously, but we won't be arrested."
She said the current Government's new agreement – the Comprehensive and Progressive Agreement for Trans-Pacific Partnership (CPTPP) – had changes "so insignificant [that they are] immaterial". The lack of action from her group's efforts to alter the deal had driven them to "peaceful civil disobedience".
"We've done marches, petitions and rallies. We've submitted to select committees a couple of years ago," de Spa said.
"We walked to Wellington from Christchurch and we went to the houses of Parliament where we had nine MPs, including from all the parties who are now turning around [and] signing this. We feel that it has now come to doing peaceful civil disobedience to make a really strong point."
Our Children's Future spokeswoman Josie Butler said the CPTPP was "essentially the same deal that 75 per cent of New Zealanders opposed when National were in the drivers seat".
"The CPTPP will contain the entire old agreement. Twenty-two of the 1000-plus provisions have been suspended, pending US re-entry, but they have not been removed."
Butler is a Christchurch nurse who threw a dildo at then-Economic Development Minister Steven Joyce at Waitangi in 2016 and organised a Queer Quake Mardi Gras outside a Christchurch venue where Destiny Church's Brian Tamaki was due to speak in 2017. It was in response to a 2016 sermon in which Tamaki blamed the Canterbury earthquakes on the city's high murder rates and its support for gay marriage.
de Spa said the group decided to block the train track "to make the strongest point possible, whilst p…ing off as few people as possible".
"We are concerned that increased exports made possible by the TPPA will mean further intensification of the dairy industry and lead to further pressure on local rivers through more nitrate pollution and higher irrigation takes," she said.
Our Children's Future member Simon Brown said there needed to be "stronger negotiations" from the Government.
Supporting the CPTPP meant supporting an increase in burning fossil fuels, he said.
"Labour has done a U-turn and we are trying to raise awareness. It's not very smart."
A police spokeswoman said they were called just after midday on Thursday.
A KiwiRail spokeswoman said services had been suspended near Addington after they were informed protesters were chained to the railway tracks.
One freight service had been affected and was held up until mid-afternoon when police cleared the tracks, she said.
---