Argentina, China vow to strengthen cooperation
All the versions of this article: [English] [français]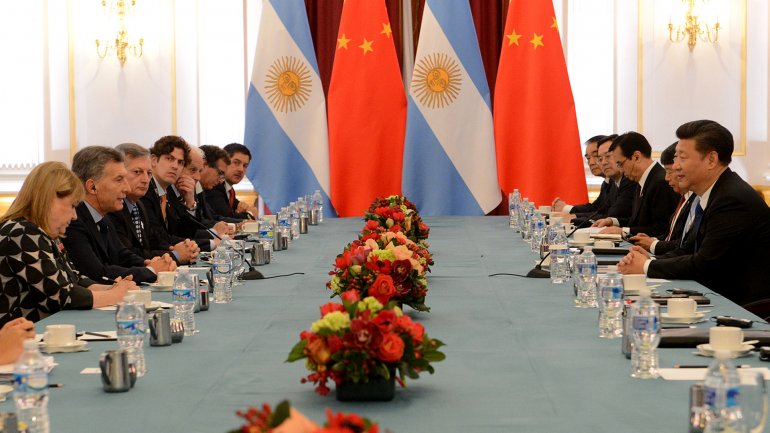 Xinhua | 23 mai 2018
Argentina, China vow to strengthen cooperation
BUENOS AIRES, May 22 (Xinhua) — China and Argentina will strengthen cooperation in a wide range of areas, visiting Chinese State Councilor and Foreign Minister Wang Yi and Argentine President Mauricio Macri said in a meeting here on Tuesday.
Wang said that due to external factors, the economic and financial situation in Argentina has experienced some fluctuations recently and that under Macri's leadership, the Argentine government has taken a series of effective measures to stabilize the economic and financial situation.
He said that as a comprehensive strategic partner of Argentina, China would like to offer whatever assistance within its ability to Argentina.
China attaches great importance to the development of China-Argentina relations and will strengthen cooperation with Argentina in trade, investment, nuclear power, energy, tourism and other areas, Wang said.
China is becoming the world's largest consumer market and has decided to hold an international import expo every year. China is willing to share the opportunities of its development with Argentina, he added.
China appreciates Macri's visit to China last year to attend the Belt and Road Forum for International Cooperation, which made positive contributions to the success of the forum, Wang said.
China regards Argentina as a long-term and important partner in joint efforts to build the Belt and Road and is willing to integrate the Belt and Road Initiative with Argentina's national development strategy and promote new prospects of bilateral relations through advancing the initiative, he added.
China fully supports Argentina's holding of the G20 summit and is willing to communicate closely with Argentina to push for positive results of the meeting, Wang said.
Macri said Argentina attaches great importance to China and thanked China for its support and assistance during the time when the Argentine economy experienced temporary difficulties.
Argentina expects to continue to deepen the comprehensive strategic partnership between the two countries and enhance bilateral cooperation in trade, tourism, infrastructure and other areas, Macri said, adding that he earnestly looks forward to President Xi Jinping's attendance at the G20 summit and state visit to Argentina.
Argentina attaches importance to the China-proposed Belt and Road Initiative and believes that strengthening Belt and Road cooperation between the two countries will invigorate the further development of bilateral relations, Macri said.
---