ASEAN to send envoys to break RCEP deadlocks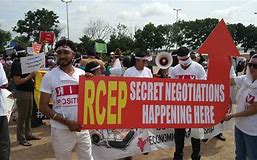 Jakarta Post, Indonesia
ASEAN to send envoys to break RCEP deadlocks
By Dian Septiari
24 June 2019
ASEAN economic ministers have agreed to have representatives from Indonesia and Thailand, as well as ASEAN Secretary-General Lim Jock Hoi, engage with Indian officials over deadlocks in the negotiations of the bloc's most strategic trade agreement.
Indonesian Trade Minister Enggartiasto Lukita said his ASEAN counterparts had agreed to communicate intensively with the six non-ASEAN countries involved in the Regional Comprehensive Economic Partnership (RCEP) negotiations, particularly India.
Started in 2012, the RCEP is a trade agreement that includes all 10 ASEAN member states plus China, India, Australia, New Zealand, Japan and South Korea. However, disagreements between regional rivals, mainly between China and India over access to India's giant consumer market, have undercut talks in recent months.
"ASEAN ministers have assigned a troika consisting of Thailand as [this year's] ASEAN chair, the ASEAN Secretary-General and Indonesia as the country coordinator [of RCEP negotiations] to meet with India immediately, especially because of its newly formed government," Enggartiasto, who represents Indonesia in the troika, told reporters after an ASEAN economic ministers working dinner on Friday evening in Bangkok. "So it would be the best time to address the issues we have with India."
The troika was still trying to find the best time to engage with Indian officials, according to Enggartiasto.
"We're trying to, maybe, meet them in Osaka [during the G20 meeting late this month] or if they're not available [during the G20] we can meet them in Delhi [instead]," he said.
On Saturday, all 10 ASEAN economic ministers met in Bangkok for a special session on the RCEP, where another team called the Trade Negotiation Committee (TNC) presented their assessment of the progress and problems of the negotiations.
The committee flew to Australia on Sunday as they will start to negotiate again on Tuesday for the 26th round of RCEP talks in Melbourne, ahead of the deadline set by ASEAN to conclude the RCEP by the end of this year.
"We, the 10 ASEAN ministers, have agreed that we remain committed to 'substantially conclude' this negotiation this year. There are no other choices, especially in the midst of this global situation," Enggartiasto said, adding that "substantially conclude" meant that all market issues must be resolved.
AFP reported that Thailand, which is chairing ASEAN this year, rallied against global protectionism and called for urgency in concluding talks on the RCEP.
"The winds of protectionism are hurting our multilateral trading system," Thailand's Prime Minister Prayut Chan-o-cha said on Sunday.
"ASEAN must hold our hands tightly in negotiating [...] the RCEP, so it is concluded this year. It will help offset any impact from the ongoing trade conflict."
---