Asia led new FTAs concluded in 2003
Asia led new FTAs concluded in 2003
KITA | Seoul | 26 January 2004
Amid the delay in DDA [Doha Development Agenda] negotiations, in 2003 FTA movement by major nations, in particular was very brisk. As for newly concluded FTAs in 2003, Asia let the world with seven agreements, followed by America region with six. Meanwhile, FTAs were under negotiation in America (17), Asia (12), Europe (12) and Oceania (4).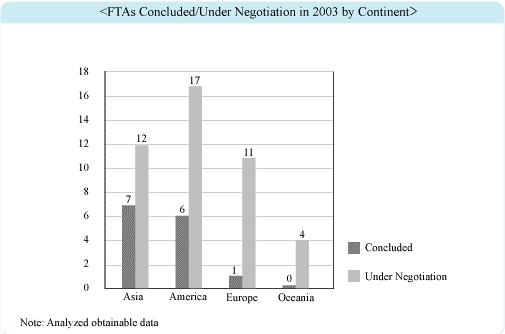 By continent, Asian and American countries actively promoted FTAs with those in Asia and America, and with those in Asia, Europe, Oceania and Africa, respectively. Meanwhile, FTA negotiations by the EU and EFTA (European Free Trade Association) were focused on countries in Central and Eastern Europe, Africa and the Gulf Coast.

All of Korea's major trading partners, the EU, U.S.A., Mexico, Chile, Singapore, etc. have concluded FTAs with more than 10 countries. EFTA leads in FTA conclusion with 35 nations, followed by Chile (34), Mexico (32), EU (31), Singapore (17), U.S.A. (10) and Thailand (10).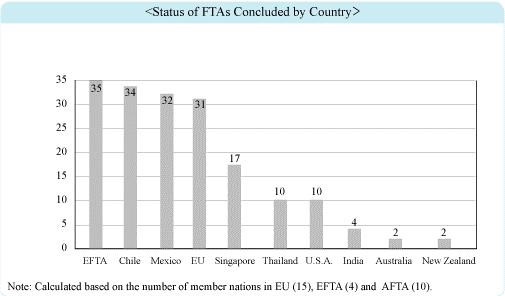 The countries with highly open economies, that have concluded FTAs with the most countries are Mexico and Chile. The export percentage of these two nations is approximately 96.2% and 66.3% respectively. In 2003, the export percentage of countries with completed FTAs, China, Singapore, U.S.A., India, etc., also surged significantly.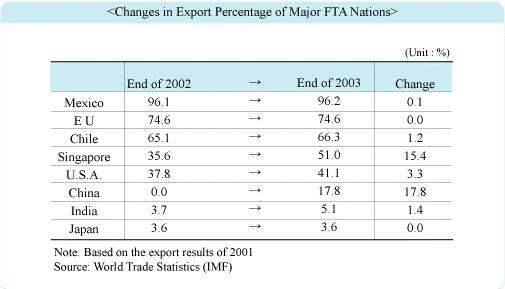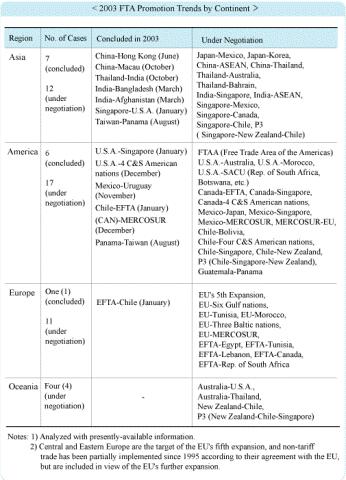 ---