At trade talks, US, EU ready for fight on genetically modified crops
Washington Post | 18 May 2013
At trade talks, U.S., E.U. ready for fight on genetically modified crops
By Michael Birnbaum
LENNEWITZ, Germany — Many Europeans see American farming and its reliance on genetically modified crops as more Frankenstein than Farmer in the Dell.
Now, the opposition here to U.S. agricultural practices is threatening to become a major battle in discussions starting next month that could sweep away trade barriers between the United States and Europe.
Many here worry that a trade pact would ease regulations that have made it difficult for genetically modified crops and products to reach European shores. Genetically modified crops are broadly unpopular in Europe, and farmers and environmentalists fear that if trade restrictions are lowered, both genetically modified seeds and U.S.-grown genetically modified products would quickly take over European farmland and grocery stores.
Some farmers are hoping to stop the talks if rules that govern their work are thrown into the mix, and they are determined to keep U.S. industrial farming an ocean's-length away.
U.S. crops inspire fear among everyone from French wine producers to German corn growers. Many European farmers say that plants that are carefully engineered to do everything from boosting production to repelling pests have uncertain environmental consequences and, once growing, spread uncontrollably via pollen that can float for miles on the wind.
But in the United States, many farmers wring extra profit out of each acre they plant with the new seeds, and the technology has quickly cornered the U.S. market despite lingering concerns from environmentalists and consumers. In the United States last year, genetically modified crops comprised 88 percent of all corn, 94 percent of cotton and 93 percent of soybeans, according to Agriculture Department figures. In the European Union, they covered less than 1 percent of farmland, mostly in Spain, according to the European Commission.
"We will fight this until we cannot fight any more" if it appears that restrictions on growing genetically modified crops are about to be loosened, said Reinhard Jung, the head of the Brandenburg Farmers' Federation. Jung's 25 spotted brown cows grazed calmly one recent afternoon on a field behind his squat, red-brick farmhouse. "We don't want to make the same mistakes with our agriculture that the Americans made with theirs," he said, adding that American farms have become industrial in scale, unlike the postage-stamp plots in Germany.
With talks expected to begin within weeks, Europeans and Americans are still finalizing the topics where they will try to find an agreement, but officials on both sides say that genetically modified crops are almost certain to be part of a broader discussion about easing restrictions on the flow of agricultural products in both directions.
Few involved in the discussions expect European concerns over genetically modified products to endanger the entire trade pact, but analysts say the brouhaha could limit the extent to which agriculture is part of the final agreement.
Just two genetically modified crop types are approved for planting in the European Union, out of a far wider range of species used elsewhere. But one of the two, a BASF potato, is no longer marketed; the other, a Monsanto corn breed, is banned for growing in France, Germany and elsewhere, despite findings from both U.S. and E.U. food regulators that the produce is safe.
The foot-dragging on further approvals has long infuriated U.S. officials and businesses who say that Europeans are ignoring science in favor of superstition.
But even some biotechnology industry advocates are not so sure that European farmers would dig up their fields in favor of genetically modified crops. Their focus is on U.S.-grown products, many of which are currently barred from Europe. One exception is the American-grown genetically modified soybean, which dominates the European animal feed market. Other American agricultural products, such as beef from cows treated with hormones, are banned.
Although agriculture is just 2 percent of the European economy and 1 percent of the U.S. economy, the sector holds outsize political clout, and past free trade negotiations between Europe and the United States have foundered on the topic. Some officials warn that agriculture is where the talks could start and end, since the touchy issues could so quickly set off a firestorm.
"I don't think there will be an agreement if agriculture is in there," said Martin Haeusling, a German member of the European Parliament who has campaigned against loosening restrictions on genetically modified organisms.
More than just food
The overall talks will range far beyond agriculture, as officials aim to boost the struggling economies of the United States and the 27 nations of the European Union. Tariffs, which are the traditional focus of free-trade agreements, are already low between the two blocs, so the toughest negotiations will cover everything from eliminating rules that require many local governments to buy only American products to regulatory issues such as agreeing that a car deemed safe in Europe is also safe in the United States. Officials say that they want to agree to as wide a deal as possible, but they are split about what topics to include in the discussions.
"Europe and the U.S. both want to protect the interests of their people with respect to food. There's no question about that. But we in the past have had different approaches to doing it," said Under Secretary of State for Economic Growth, Energy and the Environment Robert Hormats, who has a lead role in the trade negotiations. "This is going to be a challenging area of the negotiation," he said at a forum last month.
With deep-seated cultural divides over a host of issues, each area of the talks may turn into a miniature skirmish pitting European attitudes against American ones.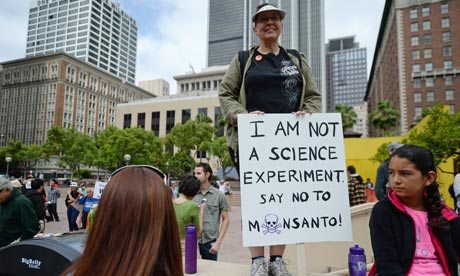 The difference in approaches, analysts say, is that U.S. regulators tend to rely on short-term scientific studies about safety to give new technologies a green light. European regulators tend to be far more cautious, focusing more on what they might not know than on what they do know. Even if European trade negotiators agree to loosen restrictions on U.S. genetically modified crops, they are likely to demand the labeling of products with genetically modified ingredients.
The United States has resisted that step in the past because officials say they do not want to label something they do not believe is harmful, even though deep reservations remain among some ordinary Americans about genetically modified food.
The differences are causing splits among European countries. Top German officials have signaled that they are comfortable talking about genetically modified crops, and British Prime Minister David Cameron said in Washington last week that "everything" was on the table. But France is not yet on board.
"On the subject of GMOs and hormones in meat," French Foreign Trade Minister Nicole Bricq told Liberation newspaper last month, "this is not a subject for discussion."
Protecting their brand, jobs
The American approach may not be absolutist, one analyst said.
"Some of this has become almost like theology, like the GMO issue," said Daniel Hamilton, director of the Center for Transatlantic Relations at Johns Hopkins University. The trade deal "is not about one side of the Atlantic converting the other to its religion, it's about finding a mechanism for religious tolerance," he said.
Farmers who tend the blooming yellow canola fields in this rolling patch of northern Germany brag about the all-natural bounty that they coax out their soil.
"We could destroy our brand if we used genetic technology," said Karsten Jennerjahn, who has a farm in Schrepkow, a small village 60 miles northwest of Berlin. "With every poison there is an opposite reaction in nature," he said. Jennerjahn fears that if he planted pest-resistant crops, insects would simply develop their own resistance in turn.
But European concerns about U.S. biotechnology aren't just about safety or the environment. They're also about more basic questions of how they organize their society. Jennerjahn's 1,000-acre farm is immense by German standards, where an average farm runs 120 acres. U.S. trade newsletters call land the size of Jennerjahn's a "hobby farm."
"For farmers, is it positive to do away with their own jobs?" Jennerjahn said. "At the end, you're alone in the village."
Petra Krischok contributed to this report.
---