Australia: Farmers seek bigger slice of FTAs
Farmers seek bigger slice of FTAs
Sid Maher and Amos Aikman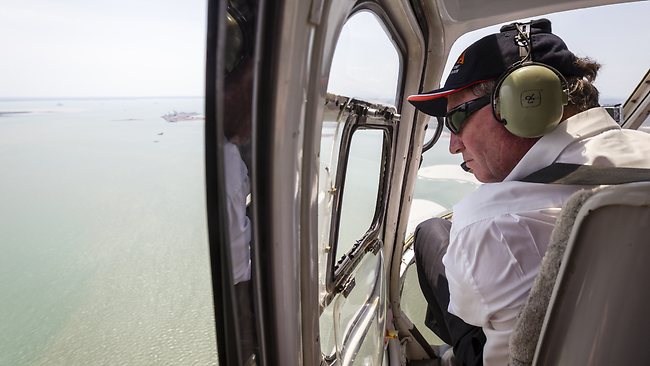 The Australian | October 11, 2013
Agriculture Minister Barnaby Joyce inspects the growth around Darwin, which he described as a future focal point for trade with Asia. Picture: Amos Aikman Source: TheAustralian
AUSTRALIAN farmers are demanding that Tony Abbott's proposed free trade deals with China, Japan and South Korea unlock a greater share of Asian markets that are predicted to expand agricultural imports by more than $90 billion in real terms by 2050.
An analysis of Asian food consumption patterns released by the Australian Bureau of Agricultural and Resource Economics and Sciences predicts improved living standards in the region will shift food consumption towards higher value and higher protein foods and greatly increase exports.
China, with which the Prime Minister wants to conclude a free-trade agreement within 12 months alongside similar deals with Japan and South Korea, is predicted to nearly double its sugar and beef consumption by 2050.
The report was released as Agriculture Minister Barnaby Joyce said the agreements should be negotiated with a view to increasing returns at the farm gate for Australian primary producers. As a condition of any agreement, China has demanded a $1bn threshold for scrutiny of foreign investments, the same deal given to the US.
Mr Joyce, who with other Nationals has called for the threshold to be lowered for rural investments to $15 million, declined to say whether the change should be a deal-breaker, but indicated he would continue to oppose Beijing's demands.
"Everybody in the world will want a billion-dollar threshold, and if that's the case we won't have a Foreign Investment Review Board anymore," he said.
Mr Joyce predicted Darwin would become the focal point of trade relationships with Asia.
The improved economic conditions in Asia and higher living standards are expected to drive increased demand for imports over the next four decades, opening up potential markets for Australian producers, the ABARES report found.
The report predicts demand for agricultural imports will grow by more than $49bn by 2025 and about $90bn by 2050 based on 2007 dollar values.
Beef imports from China are predicted to grow by $6.3bn in 2007 dollars by 2025 and $10.6bn in 2007 dollars by 2050.
India is projected to become a significant importer of vegetables and fruit ($14.88bn in 2007 terms) by 2050 and its dairy imports are expected to grow by $13.8bn in 2007 dollars by 2050.
The modelling did not include projected growth in wine and fisheries markets, which are major Australian export industries. While Australian farmers would gain only a share of the increased Asian imports the report illustrates the dramatic expansion in food imports predicted in Asia over the next four decades and the importance of lowering trade and tariff barriers in the region.
National Farmers Federation president Duncan Fraser said the growth in Asian markets made it even more important that the Australian government struck effective trade deals with Asian countries that enhanced the commercial returns to farmers. He said the federation understood the government's desire to fast track agreements with China, Japan and South Korea but was clear the deals needed to be comprehensive and remove obstacles to Australian farmers resulting in improved access for all agricultural products and not be completed at any cost.
He said the ABARES report showed the potential of the Asian markets over the next four decades. But these markets would be "very competitive" as every major agricultural producing country was seeking to get a slice of the growth.
Mr Fraser said Australia was only likely to get one crack at completing the agreements. "We want to ensure that we get it right the first time," he said.
Despite the optimistic forecasts for Asian demand, Mr Joyce warned agricultural producers not to become complacent. He said Asian consumers would increasingly shop for quality as their living standards improved.
"The capacity of our near neighbours to produce a quality product is quite apparent," he said.
"If we think that just producing a product is our ticket to the future, well it isn't. Nobody wants to buy trash and nobody will. If we provide trash (then) we will get paid trash."
Visiting the Top End yesterday, Mr Joyce predicted strong growth for Darwin based on trade with Asia.
"It will take a couple of generations, but Darwin will be bigger than Adelaide," he said.
Mr Joyce, who yesterday flew over Darwin's East Arm Port and the massive Inpex gas development construction works, said better infrastructure was critical to developing the north, and the government needed to devise "mechanisms" to attract capital from private investors such as large superannuation funds.
He singled out better irrigation infrastructure as the key to linking under-producing agricultural lands with hungry markets.
"Water is wealth: if you can properly manage water you can create wealth," he said.
---