Beef lobby ramps up pressure on Mercosur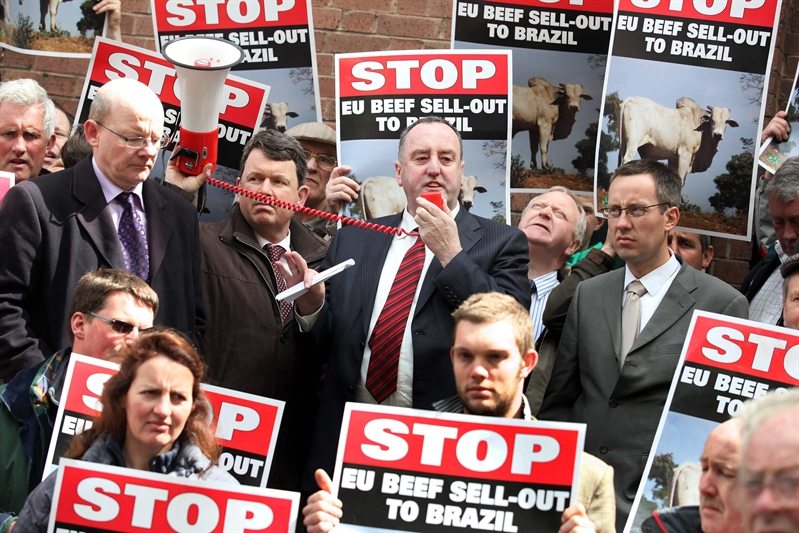 Independent.ie | 7 June 2018
Beef lobby ramps up pressure on Mercosur
by Claire Fox
The Irish government will not block any future trade deal between the EU and Mercosur, despite intense lobbying by the farm organisations and meat processors.
The IFA and meat processors have written to Taoiseach Leo Varadkar urging the Government to take action "at the highest level in the EU Commission" and with other member states to limit concessions on the level of South American beef imports.
However, the Minister for Agriculture, Michael Creed, told the Dáil that unilaterally halting progress towards a possible trade deal with Mercosur risked isolating the country.
Hinting at the strong support that Ireland has received from Europe on Brexit, Minister Creed said stalling the talks' process would be "inappropriate", although he accepted that Ireland's beef industry was "particularly exposed" to a Mercosur deal.
"At a time when we are seeking solidarity across the European Union on a range of issues…it would be inappropriate that we would stand alone in this case, when no deal has been concluded, and isolate ourselves," Minister Creed told the Dáil.
The minister was responding to questions from Fianna Fáil's Charlie McConalogue who said there was an absence of "fairness" in the trade agreement proposals to date. He also accused the Government of "rolling over" by allowing the EU Commission to offer tariff-free access for an additional 70,000 tonnes of South American beef.
Deputy McConalogue said EU beef prices would take a "massive hit" as a result of this concession. The Fianna Fáil TD maintained that the EU-Mercosur trade package having to be ratified by national parliaments across Europe provided an opportunity for Minister Creed to take a tougher line on the talks.
"That any deal will have to come back to national parliaments for ratification should surely strengthen the minister's hand in pushing back and trying to fight for Irish farmers," Deputy McConalogue said.
---