Belarus to help advance EAEU-Serbia free trade zone negotiations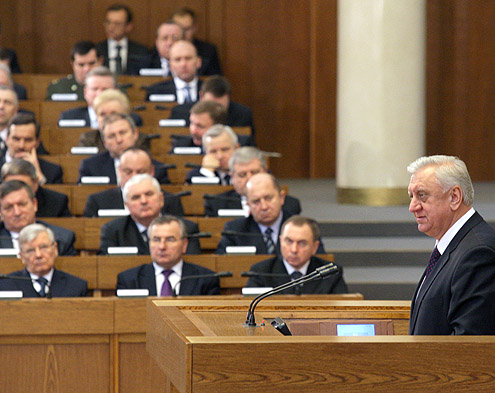 Belta | 30 April 2019
Belarus to help advance EAEU-Serbia free trade zone negotiations
MINSK, 30 April (BelTA) – Belarus supports the idea of creating a free trade zone between the Eurasian Economic Union (EAEU) and Serbia and will help advance these negotiations. Chairman of the Council of the Republic of the National Assembly of Belarus Mikhail Myasnikovich made the statement as he met with a delegation of the Serbian parliament on 30 April, BelTA has learned. The delegation was led by Stefana Miladinovic, a member of the Serbia-Belarus parliamentary friendship group.
Mikhail Myasnikovich stressed that Belarus supports the initiative of creating a free trade zone between the Eurasian Economic Union and Serbia. "We are going to facilitate more dynamic advancement of the negotiations on the EAEU-Serbia free trade zone agreement," he noted.
The head of the upper chamber of the Belarusian parliament mentioned a decrease in Belarus-Serbia trade. The speaker suggested new forms of cooperation. He suggested moving away from simple trade towards more vigorous investment partnership and the creation of joint companies. He also mentioned that investment projects, which had been discussed during the latest meeting with the Serbian delegation, are being implemented.
Mikhail Myasnikovich mentioned the importance of the international parliamentary conference of the Silk Road Support Group of the OSCE Parliamentary Assembly that Minsk is hosting these days. The use of advantages of Silk Road transport corridors is beneficial both for Belarus and Serbia. Stefana Miladinovic agreed with that. "The Belt and Road initiative is of great significance for our countries. We got involved in its implementation from the very start," she said. The MP noted that more and more countries are showing interest in this project.
The Serbian MP spoke in glowing terms about the role of the China-Belarus industrial park Great Stone. She had already visited the park. She said Belarus' experience is very useful for Serbia where a similar industrial park is supposed to be built.
Stefana Miladinovic said she was confident that Belarus-Serbia bilateral ties would grow stronger. "We maintain good relations, share common traditions and values. Our partnership stems from kind and open relations between the heads of states," the head of the Serbian delegation noted.
---