Benjamin Netanyahu, Narendra Modi meet to focus on India, Israel business ties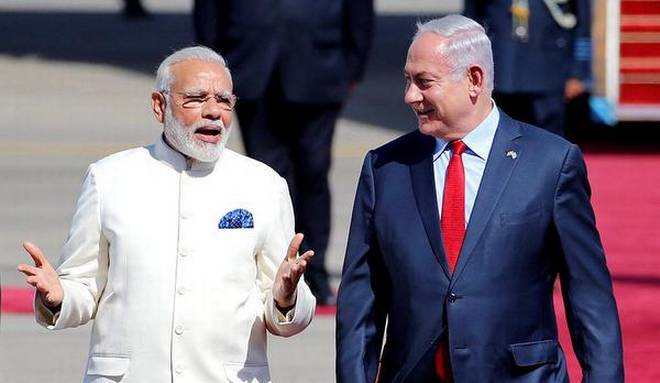 LiveMint | 15 January 2018
Benjamin Netanyahu, Narendra Modi meet to focus on India, Israel business ties
by Elizabeth Roche
New Delhi : With a 130-member Israeli delegation representing 102 businesses accompanying Israel Prime minister Benjamin Netanyahu on his visit to India, forging links between the entrepreneurs of the two countries in areas of technology and innovation is high on the agenda of both the governments as they look for ways to propel ties to the next level.
Bilateral trade is at $4.3 billion and foreign direct investments from Israel to India rests at $87 million between April 2000 and June 2015. This, however, does not take into account investments routed through the US, Europe and Singapore.
No surprise then that Netanyahu will be meeting Indian business representatives in Delhi and in Mumbai.
In New Delhi, Netanyahu and his Indian host, Prime Minister Narendra Modi, will attend the second India-Israel Business Summit on Monday evening. Several tie-ups in the areas of water conservation, agriculture, innovation and IT are expected during the business summit that takes place after Netanyahu holds official-level talks with Modi.
With about 1,000 new firms launched each year, Israel has earned a formidable reputation as a startup nation. It boasts the world's highest concentration of high-tech startups per head, according to the Economist magazine. And with India looking at innovation and technology to drive its next phase of economic growth, analysts are of the view that India can leverage this aspect of Israeli expertise.
"The next stage of the India-Israel economic partnership is likely to see India leveraging Israeli startup concept for generating more employment opportunities and to work together on technologies to enhance agricultural productivity," said Harsh V. Pant, a professor of international relations at London-based King's College. "Though differences exist between India and Israel over issues related to technology transfer, end-user agreements and a proposed free trade agreement, but they are increasingly viewed as manageable in the broader scheme of things," he said.
The first meeting of the India-Israeli CEOs forum took place during Modi's visit to Israel in July. That visit was seen as historic given that it was the first-ever visit by an Indian prime minister to Israel. And it was a stand-alone visit, not linked with a visit to Ramallah, the seat of the Palestinian Authority government.
A joint statement issued after the Modi visit said the CEOs Forum had been tasked with coming up with recommendations to realise the full potential of bilateral trade which was currently to the tune of $4.3 billion. The forum was to suggest ways to enhance trade and investment, promote business alliances and collaborations and suggest possibilities for business collaboration in third countries.
Six working groups on agriculture, irrigation and water management, urban infrastructure and transport, pharmaceutical, medical devices, healthcare and life-sciences, digital technologies, data security technologies, startups and innovation ecosystem and defence, cyber, aerospace and homeland security were formed on that occasion.
On Monday, the two prime ministers are expected to get a set of recommendations from the CEO forum on how to take their trade and business relations forward.
India is Israel's third-largest trading partner in Asia (behind China and Hong Kong) and 10th-largest globally. Diamonds are the main element of this, constituting more than 53% of the total merchandise trade in 2016. In recent years, bilateral trade has diversified into sectors such as pharmaceuticals and IT. Potash is a major item of Israel's exports to India, with India sourcing nearly 20% of its requirement from Israel, according to Indian government data.
Indian investments in Israel include 100% acquisition of Israeli drip-irrigation company Naandan by Jain Irrigation in 2012, Sun Pharma's purchase of a controlling stake in Taro Pharmaceuticals in 2010 and Triveni Engineering Industries's investment in Israeli waste water treatment company Aqwise in 2013.
---