Brexit free trade deal 'very close' – UK finalising comprehensive agreement with Turkey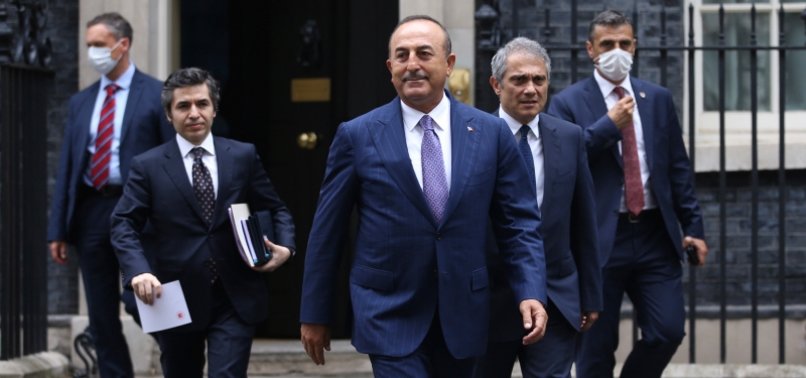 Express | 10 July 2020
Brexit free trade deal 'very close' – UK finalising comprehensive agreement with Turkey
By Paul Withers
Mevlut Cavusoglu has been in London this week meeting Boris Johnson and Foreign Secretary Dominic Raab. He said in principle there have been no differences over a potential deal, but that some technical issues need to be ironed out. Turkey's Foreign Minister told the Financial Times: "It's going very well and we are very close to finalising it. If you look at the volume of our bilateral trade, 95 percent of it is industrial products, and we agreed on that, and five percent is agriculture and services.
"We agreed already with the UK that in the post-Brexit era we will increase our bilateral trade; in volume we set a $20billion bilateral trade target."
A senior official at the UK's Department for International Trade said talks over an FTA with Turkey are "progressing well".
International Trade Secretary Liz Truss and Trade Minister Ranil Jayawardena will meet Turkish counterparts for further talks next week.
Any FTA with the UK would only be implemented once Britain has signed a trade deal with the European Union, as Turkey remains a member of the EU customs union.
The latest round of talks on a post-Brexit free trade deal between London and Brussels ended on Thursday, with significant differences between the negotiating teams still remaining.
But if the two sides are unable to sign an agreement before the end of the transition period on December 31, Turkey could face a dilemma over whether to push ahead with an FTA with the UK and risk breaking EU rules.
Mr Cavusoglu admitted that would be a "bizarre situation", adding Britain is a "strategic ally".
The Brexit transition period ends on December 31, with Boris Johnson and his Government chasing several lucrative trade agreements with a number of key allies, including the UK, Australia, New Zealand, Japan and Turkey.
Britain is Turkey's second-largest trading partner after Germany, and the agreement of a free trade deal would be crucial for Turkish manufacturers, particularly carmakers, textile factories and white goods producers.
The Office for National Statistics has said trade between the UK and Turkey totaled £18.8 billion last year, with £7.9billion in British exports, and £10.9billion of Turkish imports to the UK.
There are more than 2,500 UK companies operating in Turkey including BP, Shell, Vodafone, Unilever, BAE Systems, HSBC, Aviva and Diageo.
Mr Cavusoglu also said Turkey is hopeful of striking a separate immigration agreement that would grant people fromv his country special status when Britain introduced new migration laws following the departure from the EU.
There are up to 400,000 Turks currently living in the UK.
Many have benefited from the Ankara Agreement, which Turkey signed with the European Economic Commission in 1963, which allows people from the country to work and establish businesses in Britain.
Turkey is now hopeful of agreeing a similar deal with the UK to protect the status of Turkish people have not secured full residency in the country from next year.
Mr Cavusoglu said: "We have been negotiating two separate agreements, one is the FTA, one is similar to the Ankara Agreement."
But the ongoing talks between the UK and EU on a post-Brexit trade deal are showing much less progress, with time running out to sign an agreement before the transition period deadline.
Britain left the bloc on January 31 and both sides are in the middle of an 11-month transition period - remaining in the single market and customs union until the end of this year.
The two sides met in London this week but the EU's chief negotiation Michel Barnier said on Thursday "significant divergences" remain.
There are still several stumbling blocks, namely fisheries and fair competition guarantees.
Mr Barnier said following the conclusion of the latest talks in London: "This week's discussions confirm that significant divergences remain between the EU and the UK.
"We will continue working with patience, respect and determination."
UK and EU negotiators will again meet in Brussels next week as they search for a breakthrough in talks.
---