Canada-EU free trade: Treat or trick? Groups to protest CETA negotiations, demand consultations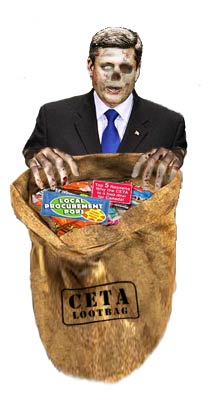 Council of Canadians | October 15, 2010
Canada-EU free trade: Treat or trick? Groups to protest CETA negotiations, demand consultations
TORONTO - October 15 - In the spirit of Halloween, Canadian and European Union trade negotiators are in Ottawa next week to continue closed-door talks on a monster trade deal called the Comprehensive Economic and Trade Agreement, or CETA. While improving ties with Europe sounds good, CETA is no treat – it's a trick that threatens farmers, First Nations, public water, municipal democracy, good jobs, public services, cultural protections and other policies designed to protect people from corporate profiteering. The Council of Canadians has organized a rally to demand a halt to the negotiations while the Harper government seeks an informed public mandate on how, or even whether to proceed at all.
WHAT: Public rally against CETA
WHERE: Old Ottawa City Hall, 111 Sussex Drive, where the negotiations will be taking place
WHEN: Friday, October 22, 12:00-1:00 p.m.
SPEAKERS WILL INCLUDE:

Maude Barlow, The Council of Canadians


Terry Boehm, National Farmers Union


Peggy Nash, Canadian Autoworkers union


Canadian Labour Congress – speaker to be determined


Clayton Thomas-Muller, Indigenous Environmental Network


Claude Vaillancourt, ATTAC-Québec


Daniel Legere, Canadian Union of Public Employees


Canadian Federation of Students – speaker to be determined


Dave Coles, Communications, Energy and Paperworkers union of Canada


Denis Lemelin, Canadian Union of Postal Workers
The Council of Canadians will be busing people to the protest from its annual general meeting in the city, and the CAW has organized buses from the Greater Toronto Area. The rally will be followed by the Council of Canadians 25th Annual General Meeting – Building People Power – to commemorate 25 years of speaking out for social justice. More details on the weekend conference that will take place at the Crowne Plaza Hotel in Ottawa, are available at www.canadians.org.
Organizations presenting at the rally are members of the Trade Justice Network, a collection of environmental, cultural, labour, Indigenous, farmer, student and social justice organizations challenging the scope and content of the Canada-EU free trade negotiations.
---