Canadian auto industry denounces free trade agreement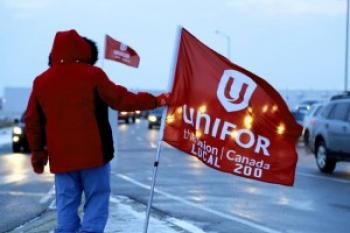 Mississuaga | 13 March 2014
Canadian auto industry denounces free trade agreement
By Chris Clay
BRAMPTON — A union representing about 3,000 workers at the Chrysler Group in Brampton is saying a just-announced free trade agreement between Canada and South Korea poses a "serious threat" to the Canadian auto industry.
Jerry Dias, Unifor national president, said that — according to their research — 33,000 manufacturing jobs could be lost due to the deal.
"We cannot stand by a deal that secures a one-way flow of Korean auto imports into the Canadian market, undermining the jobs and industry on which so many Canadians depend, while precious little is done to strengthen our exports to Korea," said Dias. "We expected our political leadership to stand up for the rights, jobs and economic security of Canadians and they have failed to do that."
The agreement comes hot-on-the-heels of a recent decision by Chrysler Group to withdraw its request for $700 million in government aid so it could invest $3.6 billion in plant makeovers for some of its facilities, including the Brampton location. However, that request was withdrawn after criticism from Ontario PC leader Tim Hudak.
The federal government has said the agreement is expected to increase exports by more than 30 per cent and boost Canada's economy by $1.7 billion annually. Ottawa said greater access to the South Korean market will mean thousands of new jobs in a variety of sectors including chemicals and plastics, information and communications technology, aerospace, wine and spirits and wood, among others.
However, there's been fierce criticism of the deal from the Canadian auto sector.
Ford Motor Company of Canada, which has an assembly plant in Oakville with about 2,800 workers represented by Unifor, took a dim view of the agreement.
"We believe that South Korea will remain one of the most closed automotive markets in the world under the deal negotiated by the Canadian government," said company president and CEO Dianne Craig. "Over the last two years, both the United States and European Union free trade agreements with South Korea have failed to reverse this one-sided automotive trade flow because the South Korean government continues its long history of maintaining a closed market through non-tariff trade barriers and actively intervening in its currency to unfairly subsidize its exports and protect its home market."
Craig added that Ford has proven it can be competitive in the international market when there is a "level playing field.
"But no Canadian manufacturer can compete with a market controlled by non-tariff barriers and currency manipulation. The trade agreement negotiated by the Canadian government with South Korea fails to address these issues."
However, not all automakers are unhappy with the agreement. Officials with the Canadian division of South Korean automaker Kia, which is headquartered in Mississauga, feel the agreement will be beneficial but aren't sure how it will affect them going forward.
"Kia Canada is pleased with the announcement that Canada and South Korea have successfully negotiated a free trade agreement," said Kia Canada spokesperson Jack Sulymka. "Although it is inevitable that both countries will benefit, it's premature to comment on the direct impact to Kia Canada's operation at this time."
Chrysler Group officials declined to comment.
---