Central America: Big fish eat the small fish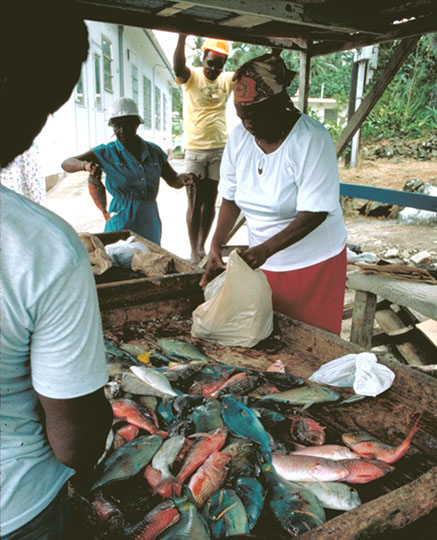 InterPress Service
CENTRAL AMERICA
Big fish eat the small fish
By Danilo Valladares
GUATEMALA CITY, Mar 30, 2011 (IPS) — Thousands of small-scale fishers in Central America are fighting for survival in the face of free trade deals, transnational corporations, mega tourism projects and pollution that is harming marine life.
"We are gradually disappearing," Oscar Marroquín, president of the Confederación de Pescadores Artesanales de Centroamérica, told IPS.
The small fishers association, founded in 1997, represents more than 95,000 small fishers from Belize, Costa Rica, El Salvador, Guatemala, Honduras, Nicaragua, and Panama and advocates the productive development of the sector.
It has been an uphill task. The main hurdles that artisanal fishers must overcome include free trade agreements "that favour large companies," said Marroquín, a Guatemalan fisherman.
There are several preferential trade agreements in effect in this region, such as CAFTA, the free trade accord signed with the United States by the Dominican Republic and Central America in 2006, under which this region enjoys tariff-free access to the U.S. market for products like tuna and sardines.
El Salvador, Guatemala, Honduras, Nicaragua and Panama also have a free trade deal with Taiwan, which grants them tariff benefits for seafood exports.
And negotiations for an association agreement between Central America and the European Union are in the final stretch.
But it is commercial fishing operations, not small-scale fishers, that benefit from the free trade agreements.
In Panama, the region's largest producer of fish, industrial fishing accounted for 77.3 percent of the industry's production in 2007, compared to 16.1 percent for artisanal fishing and 6.6 percent for aquaculture, according to the Aquatic Resources Authority of Panama.
Central America produces 550,000 tons a year of seafood products, with an estimated value of 1.9 billion dollars. Of that total, 60 percent is exported, principally to Europe and the United States, according to the Central American Integration System's (SICA) Coordinating Unit of the Central American Organisation of the Fisheries and Aquaculture Sector.
Despite the opportunities represented by exports, the situation presents difficulties for small-scale fishers.
"It is impossible for us to compete with the big companies, like the Spanish firms Calvo in El Salvador, Rianxeira in Guatemala and Pescanova in Nicaragua. Our small boats go out to sea for two or three days, while some big boats spend up to a month fishing," Marroquín complained.
"What we need is support to strengthen our organisational capability, new technologies to make production more efficient, and improved marketing," he added.
The association estimates that 25 percent of its members are subsistence fishers, and 75 percent sell their products locally.
Small-scale fishers are also threatened by the mushrooming of large tourist resorts and by agribusiness, whose toxic fertilisers and pesticides leak into the sea, Marroquín said.
Saúl Baños, with the Foundation for the Study and Application of Law (FESPAD), told IPS that a study published by the Salvadoran human rights organisation in January outlined the difficulties facing small-scale fishers and the environmental damages caused by restaurants and hotels in the Costa del Sol, 78 km southeast of San Salvador.
The report describes the pollution caused by chemicals, motor oil and sewage from boats in tourist resorts, which poison marine life.
It also reports tax evasion and indiscriminate fishing by commercial operations. "Large fishing boats anchor off the coast, unload their fish in speedboats, and thus evade taxes," the study says.
Some 30,000 small-scale fishers work along the Salvadoran coast, and their work generates more than 100,000 jobs, according to the government's Centre of Fisheries and Aquaculture Development (CENDEPESCA).
Their latest struggle is a push to get the Salvadoran Congress to reform a fisheries law, in order to create a five-mile exclusion zone along the coast where the industrial fleet would be banned from fishing. But no progress towards that goal has been made so far.
In Panama, meanwhile, artisanal fishers have protested the December 2010 implementation of decree 486 that banned longline fishing.
Amílcar Rodríguez, of the small fishers association of Puerto Remedios in the western Panamanian province of Chiriquí, told IPS that the measure, which "took them by surprise," affected hundreds of fishers, who are now in talks with the government to resolve the conflict.
In Puerto Pedregal, a port city in Chiriquí, as in other communities where a majority of the population depends on fishing for a living, people have taken to the streets to protest the ban that has left many without jobs.
The list of challenges for small-scale fishers in the region is long. Mario González, with the SICA Coordinating Unit of the Central American Organisation of the Fisheries and Aquaculture Sector, told IPS that illegal fishing "affects between 25 and 30 percent of production in the region," as in the rest of the world.
On Mar. 10-11, González and other fisheries delegates from the region met with representatives of the European Union to clarify doubts on the EU's new regulations to prevent, deter and eliminate illegal, unreported and unregulated fishing.
The regulations, in force since 2010, establish requisites for countries to export to the EU.
Meanwhile, artisanal fishers are seeking to swim rather than sink amidst the free trade agreements, large tourist investments and pollution.
---