Cérémonie de signature du Partenariat transpacifique le 8 mars
All the versions of this article: [English] [français]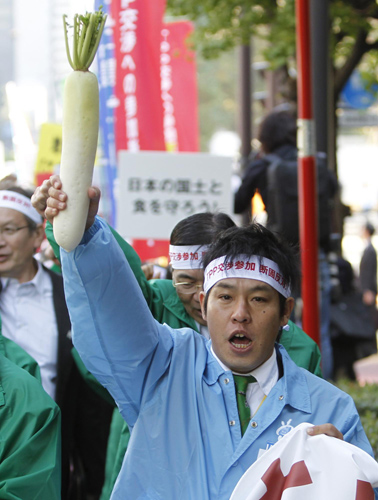 Yahoo | 23 janvier 2018
Cérémonie de signature du Partenariat transpacifique le 8 mars
par Kaori Kaneko, Takashi Umekawa
(Reuters) Les onze pays membres du Partenariat transpacifique (TPP) se réuniront le 8 mars au Chili pour la cérémonie de signature officielle du futur traité de libre-échange dans la zone Asie-Pacifique, a annoncé mardi le ministre japonais de l'Economie.
Toshimitsu Motegi a présenté le nouvel accord comme un moyen de contrer "le protectionnisme qui monte dans certaines régions du monde", une allusion aux Etats-Unis où Donald Trump a imposé lundi des tarifs douaniers élevés sur des machines à laver et des panneaux solaires en provenance d'Asie.
Les Etats-Unis ont annoncé l'an dernier leur retrait du TPP mais les onze autres pays concernés - Australie, Brunei, Canada, Chili, Japon, Malaisie, Mexique, Nouvelle-Zélande, Pérou, Singapour et Vietnam - ont poursuivi les négociations et sont parvenus en novembre à un accord sur une nouvelle version du Partenariat.
Leurs représentants étaient réunis mardi à Tokyo pour surmonter les dernières réticences du Canada, soucieux de protéger son industrie culturelle, notamment cinématographique et musicale.
L'accord est un succès pour le Japon, qui entend ainsi contrer la domination croissante de la Chine en Asie.
Le TPP ambitionne d'éliminer les tarifs douaniers sur des produits industriels et agricoles entre les onze pays et dont les échanges commerciaux ont totalisé l'an dernier 356 milliards de dollars.
Toshimitsu Motegi a déclaré mardi qu'il espérait encore convaincre les Etats-Unis de revenir sur leur décision de sortir du Partenariat.
The precise content of the letters will not be revealed until then, a Japanese official added.
---