Certification will give US excessive leverage in the TPPA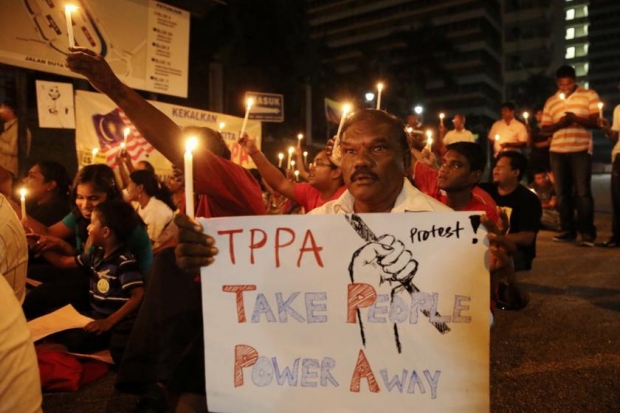 FMT | 7 May 2015
Certification will give US excessive leverage in the TPPA
The Malaysian government must scrap certification from the TPPA as it allows the US president to unilaterally amend FTAs for US interests
By Charles Santiago
It's only one word. And it's the dirty secret of the Trans-Pacific Partnership Agreement (TPPA).
That word is "certification".
This seemingly harmless term allows the US president huge powers to squeeze more concessions from partner countries even after a free trade deal is signed.
The US interprets the obligations of a country under the trade and investment agreement and can refuse to implement the done-and-dusted deal until the partner amends existing domestic laws as well as regulations to cater to US interests.
At the start, once the free trade deal is signed, it needs the approval of the US Congress to be implemented. With the Fast Track deal, the US president can ask for amendments to existing laws without having to go back to Congress for approvals at every turn.
The certification process is a relatively new addition to free trade agreements (FTAs). With this introduction, the US must now certify that it is content with the implementation of the FTA in a particular country, before the agreement can come into force.
In short, the US unilaterally decides what a country's obligations are and if they are being met.
This allows the US the leverage of significant bargaining power, where it can place demands on partner countries to amend existing laws and regulations before the signed free trade deal can be effectively implemented.
Sometimes, it can even draft laws in partner countries.
In 2008, the Deputy US Trade Representative travelled to Peru to help the administration finalise 35 new laws that the US required.
In addition, two teams of US government lawyers assisted Peru in drafting environmental and business laws.
The 35 laws reportedly included laws on data protection for pharmaceuticals, investor arbitration, changes to indigenous land ownership and the education system.
The US has made it clear that it wants the certification process to be a part of the TPPA, which it is currently negotiating with Malaysia and 11 other countries.
It has been reported that some of the areas the US will target Malaysia in its certification process include the halal requirements, financial regulations, requirements for Malaysian content on radio and television, level of intellectual property protection, restrictions on foreign ownership of land and in the oil and gas sectors, requirements for labelling of genetically modified food and restrictions on genetically engineered products.
We all know that the whole TPPA process between the US and Malaysian representatives were conducted in secrecy.
But the least the Malaysian government can do for the people is to demand that the US scraps the certification process from the trade deal, which is expected to conclude sometime later this year.
This crucial point must be raised by Prime Minister Najib Razak and Mustapa Mohamed, Minister of International Trade and Industry when they meet with Michael Froman, the US Trade Representative today.
And Malaysia must also fight hard for it to be scrapped at the final meeting of trade ministers in a week's time from now.
Charles Santiago is the Member of Parliament for Klang
---