Chile, Brazil wrap up first round of "second generation" FTA talks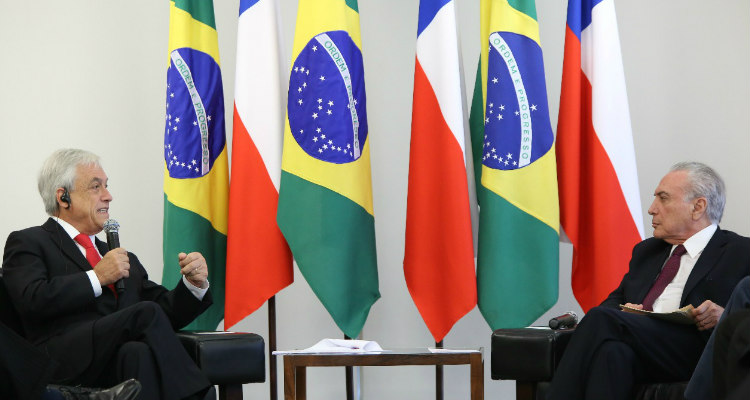 Santiago Times | 9 June 2018
Chile, Brazil wrap up first round of "second generation" FTA talks
BRASILIA – Brazil and Chile launched the first round of negotiations for a "second generation" free trade agreement this week, since they already have 100% of their trade released for more than 20 years.
The first round of negotiations towards a bilateral free trade agreement concluded on Friday. The talks, which took place in Brasilia, capital of Brazil, aimed to speed up the process so a deal can be signed by the end of the year, Chile's Foreign Affairs Ministry's department for international economic ties (Direcon) said in a statement.
"The tariffs are already released," said an official at Brazil's Ministry of Foreign Affairs (Itamaraty), referring to the Agreement on Economic Complementation (ACE 35) of 1996. These are agreements that the countries of the region negotiate through the Latin American Integration Association (ALADI).
Those who are "negotiating with Chile is a second generation agreement," added the official, who explained that this type of agreement "involves more sensitive regulatory issues of economic regulation."
As part of the effort to forge a modern trade deal, the agenda included trade facilitation, trade in services, as well as environmental, labor and gender equality concerns.
"The first round took place in a very positive way. Based on a sense of urgency, …the delegations made substantial progress in discussing the proposals presented," said Felipe Lopeandia, director of bilateral economic affairs at Direcon.
"Both delegations agreed to hold the next meeting at the start of August in Santiago, and there will be rounds in September and October, with the goal of signing this agreement at the end of this year," said Lopeandia.
According to Brazil's Foreign Ministry, Brazil's trade with Chile reached nearly 8.5 billion U.S. dollars in 2017, an increase of about 22 percent year-on-year.
Chilean President Sebastian Pinera and his Brazilian counterpart Michel Temer jointly announced the start of the first round, during Pinera's state visit to Brazil at the end of April, when both leaders agreed to expand economic and trade ties with an FTA.
---