China, Australia to sign free trade deal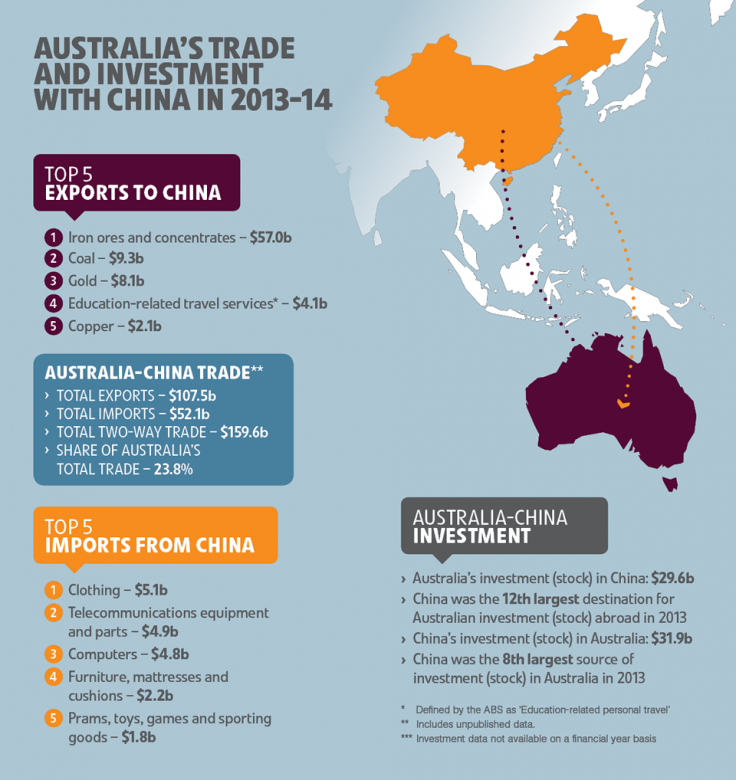 Global Times 2015-06-16
China, Australia to sign free trade deal
Two sides pledge 'high-quality' opening-up
The China-Australia Free Trade Agreement (ChAFTA) will be signed on Wednesday after 10 years of negotiations, the China-Australia Chamber of Commerce told the Global Times on Monday in an e-mail.
Experts said that ChAFTA reflects closer ties between the two major world economies as well as China's growing influence in the Asia-Pacific region.
The text of ChAFTA will be released on Thursday and Gao Hucheng, head of China's Ministry of Commerce (MOFCOM), is expected to visit Australia this week to finalize the text, Australian news website businesspectator.com.au reported on Monday.
MOFCOM could not be reached for comment as of press time.
China and Australia signed the declaration of intent symbolizing the conclusion of ChAFTA negotiations in November 2014 during Chinese President Xi Jinping's visit to Australia following the G20 summit.
According to the results of ChAFTA negotiations, which started in April 2005, most Australian products to China will eventually enjoy duty-free entry, and all of China's exports to Australia will also be tariff-free, MOFCOM said on its website in November 2014.
The two sides promised a wide and "high quality" opening-up to each other in the service sector and in terms of investment, the two countries agreed to grant each other the most-favored-nation status and lower the review thresholds for corporate investment, according to the MOFCOM statement.
The free trade agreement ensures a deeper and long-term cooperation between China and Australia since the two countries are complementary in resources and industries, Bai Ming, a research fellow at the Chinese Academy of International Trade and Economic Cooperation, told the Global Times on Monday.
Australia has rich mineral resources with a small population, while China has labor-intensive manufacturing industries, said Bai.
Australia's top five exports to China are iron and concentrates, coal, gold, education-related travel services and copper, and its major imports from China are clothing, telecommunication equipment, computers and furniture, according to the website of the Australian Department of Foreign Affairs and Trade (DFAT).
In terms of trade, Australia may benefit more from the ChAFTA due to its trade surplus with China, and China will benefit more in the investment sector, Zhou Hao, an economist at ANZ Banking Group, told the Global Times on Monday.
Trade volumes between China and Australia grew from $88.1 billion in 2010 to $136.9 billion in 2014, according to the Chinese Academy of International Trade and Economic Cooperation under MOFCOM.
Data from China's State Administration of Foreign Exchange showed that Australia had $9.4 billion trade surplus with China in 2014.
In the past two years, China was Australia's largest export market for both goods and services, accounting for about a third of the country's total exports and a growing source of foreign investment, according to the DFAT.
Although Australia agrees with the US in terms of political and security issues, it will not give up economic cooperation with China, Huang Wei, a director at the Institute of World Economics and Politics of the Chinese Academy of Social Sciences, told the Global Times on Monday.
The two countries' relationship is based on understanding and communication between two peoples and implementation of ChAFTA leads to more cooperation between enterprises from China and Australia, Huang said.
Unlike the US-led Trans-Pacific Partnership Agreement (TPP) which has not progressed in recent years, China is steadily pushing forward its free trade agreements in the Asia-Pacific region, said Huang.
The TPP has 12 Asia-Pacific countries and regions in negotiations, including Japan and the US, but China is not involved.
China and South Korea signed a free trade agreement on June 1. It will remove tariffs on 90 percent of their traded products.
Both South Korea and Australia are important economies in the Asia-Pacific region and ChAFTA will further improve China's influence in regional economic cooperation, Huang said.
China-Australia trade highlights
Top 5 exports to China 2013-14
1. Iron ores and concentrates - A$57.0b ($44.3b)
2. Coal - A$9.3b
3. Gold - A$8.1b
4. Education-related travel services - A$4.1b
5. Copper - A$2.1b
Top 5 imports from China 2013-14
1. Clothing - A$5.1b
2. Telecom equipment and parts - A$4.9b
3. Computers - A$4.8b
4. Furniture, mattresses - A$2.2b
5. Prams, toys and games - A$1.8b
---