Dawn | 17 March 2018
China FTA nearly done
by Mubarak Zeb Khan
Pakistan and China have agreed to offer zero per cent duty on 70pc tariff lines to each other under the revised Free Trade Agreement, a move that is expected to add to increasing imbalance in bilateral trade and revenue loss.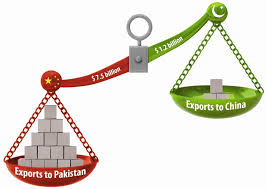 Both sides are expected to strike a deal soon, a senior official who is privy to development told Dawn.
The attempt to seek unilateral concessions did not materialise as China is unwilling to open its market unilaterally for Islamabad and wants similar concessions from Pakistan.
The move will further deprive Pakistan from customs duty collections. In the year 2016-17, Pakistan lost Rs32 billion on account of duty exemption on imports from China under the FTA.
The present move to further exempt duty on imports may double the revenue loss to the country which is struggling to control the residing budget deficit.
The details of the deals were shared with the relevant stakeholders in a high level meeting held on Thursday in Commerce Division. The understanding on the deal was reached in the 9th round of negotiations on China-Pakistan FTA held in China recently. The negotiations were led by Secretary Commerce Younus Dagha.
The source told Dawn that China has also agreed to reciprocate zero per cent duty on 70pc tariff lines under the second phase. As per the proposed plan, Pakistan will reduce customs duty to zero per cent on 70pc tariff lines in a period of 15 years, while China will do the same for Pakistan in a period of five years.
However, the source said it was not the final timelines and will be negotiated further.
A written question related to exact number of tariff lines to be offered for duty reductions were sent to Commerce Division for official response. Meanwhile, Commerce Division Spokesman Mohammad Ashraf said, "Negotiations are underway and details will be shared at appropriate time."
The negotiations to revise the FTA were launched in 2012 in an effort to address the rising bilateral trade deficit.
The source claimed that Pakistan has secured its interest by including more items of its interest in the proposed deal.
Under the proposed agreement for zero per cent duty, China will cover 90pc tariff lines in value terms of Pakistan's total exports for duty reduction, while Pakistan will cover 60pc of the total Chinese exports value to Pakistan.
Moreover, the source said that Pakistan has made no commitment on imposition of regulatory duties on items which were covered under the FTA.
Moreover, the safeguard measures will also be available for Pakistan in the next 25 years. In case of any surge, Pakistan can immediately use safeguard measures to protect local industries. Under the first phase of FTA, both sides have offered 55-60pc tariff lines on zero to five per cent duty.
Despite this lower coverage, the bilateral trade has expanded from about $4bn 10 years ago when the FTA was signed by the two sides to almost $14bn last year. Imports from China have surged by 380pc to $12bn from $2.5bn, while Pakistan's exports have increased by 195pc to $1.7bn from $570 million.
---