China joins ASEAN countries' chorus for free trade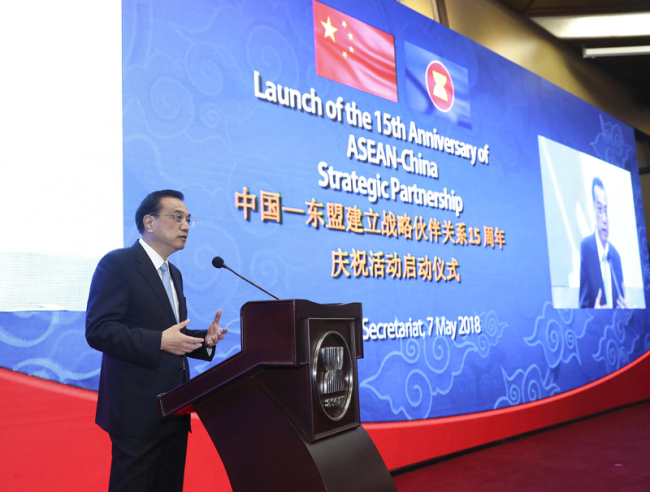 Xinhua Net | 8 May 2018
China joins ASEAN countries' chorus for free trade
Jakarta: Chinese Premier Li Keqiang on Monday pledged to jointly promote trade and investment liberalization and facilitation with the Association of Southeast Asian Nations (ASEAN), so as to inject positive energy into the world economy.
Li made the remarks while addressing a celebration ceremony of the 15th anniversary of the China-ASEAN strategic partnership at the ASEAN Secretariat in Jakarta, capital of Indonesia.
At the 32nd ASEAN Summit and related meetings held in Singapore in late April, leaders of ASEAN countries agreed to work towards an early conclusion this year of the Regional Comprehensive Economic Partnership (RCEP), a free trade agreement (FTA) scheme of the 10 ASEAN member states and its FTA partners, namely China, Australia, India, Japan, South Korea and New Zealand.
In his speech, the Chinese premier also called for substantive breakthroughs made in the negotiations on the RCEP.
China and ASEAN countries are all beneficiaries of free trade, Li said, adding that it is in line with their common interest to safeguard multilateralism and the international trading system.
China is ready to work with ASEAN countries to promote the early completion of the RCEP, build the East Asian economic community and promote trade and investment liberalization and facilitation, so as to inject positive energy into the world economy, Li said.
He said the importance of cooperation between China and ASEAN has gone beyond the bilateral scope and has increasingly become the support and engine for maintaining regional peace and stability as well as promoting regional common prosperity.
China has always put ASEAN as a priority for its foreign policy with neighboring countries and stood for friendly cooperation with ASEAN, said the premier.
He said China supports the establishment of the ASEAN community, supports ASEAN's central position in regional cooperation and supports it to play a bigger role in building an open and inclusive regional framework.
This year marks the 40th anniversary of China's reform and opening-up, and the ASEAN also ushered in its second 50-year period, said Li.
Last month, Chinese President Xi Jinping proposed new initiatives for furthering opening-up at this year's Boao Forum for Asia annual conference.
Li said China's development would bring new and greater opportunities to all countries in the world including ASEAN.
China is ready to work with ASEAN to build a closer community with shared destiny and jointly write a new chapter in their cooperation, said the premier.
In his welcome remarks, Secretary-General of ASEAN Lim Jock Hoi thanked Premier Li for his visit to the ASEAN Secretariat and his attendance at the Launching Ceremony of the 15th Anniversary of China-ASEAN Strategic Partnership.
China has always been an important partner of ASEAN, he said, noting that China's support has strongly promoted the integration of ASEAN, helped ASEAN narrow its internal development gap and deepened the friendship between the people of the two sides.
ASEAN is willing to work with China to strengthen economic and trade cooperation, especially in such areas of innovation and digital economy, so as to achieve common prosperity and mutual benefit, said Lim.
Congratulating China on its tremendous achievements in reform and opening-up, Lim said he appreciated China's commitment to an open and rules-based multilateral trade system.
He said he believed that China's broad prospects for development will not only benefit the Chinese people but will also improve the well-being of all people in the region.
Li launched the ceremony together with Lim and Tan Hung Seng, the permanent representative of Singapore to ASEAN. More than 200 participants attended the ceremony.
Li arrived in Jakarta Sunday for an official visit to Indonesia, the first stop on his first overseas trip since the new cabinet took office in March.
---