China mulls free trade zone among SCO member states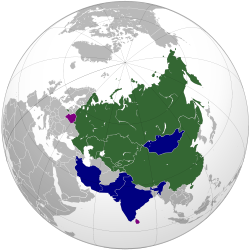 Xinhua 2011-09-03
China mulls free trade zone among SCO member states
URUMQI, Sept. 3 (Xinhua) — Chinese Vice Minister of Commerce Zhong Shan said member states of the Shanghai Cooperation Organization (SCO) should consider setting up a free trade agreement (FTA) which, once in place, would cover about three fifths of the Eurasia's landmass.
Zhong told a forum at the on-going China-Eurasia Expo in the northwestern city of Urumqi that such a FTA will further facilitate trade and create a sound environment for pragmatic regional economic cooperation.
"Eying the trend of economic globalization, Beijing considers that SCO members should discuss the possibility of setting up a FTA within the organization at a proper time," the vice minister said.
The SCO, founded in Shanghai in June 2001, groups China, Russia, Kazakhstan, Kyrgyzstan, Tajikistan and Uzbekistan. The six member states cover an area of over 30 million square kilometers, or about three fifths of Eurasia, with a population of 1.455 billion, about a quarter of the world's total.
Trade among SCO members grew seven times over the past decade to reach 8.4 billion U.S. dollars in 2010, Zhong said, adding that significant progress had also made in the cooperation on energy, transportation, and telecommunications.
But Russia and Kazakhstan have not joined the World Trade Organization and observers say not all SCO member states are enthusiastic about a regional FTA. The establishment of such an arrangement should come after consolidating political trust among the member states, they said.
"For some reasons, SCO members have yet to reach consensus on establishing a FTA, but they are moving towards that direction," said Liu Huaqin, a researcher with the Chinese Academy of International Trade and Economic Cooperation.
Zhang Di, a deputy director of the European bureau of the Ministry of Commerce, told Xinhua that Beijing has yet made a formal proposal but intended to call for attention to the view. He said SCO has set the goal to achieve free flow of capital, goods, services and technology among the member states by 2020 and a FTA before 2020 will help the group reach that goal.
"To set up a FTA in the region is a complicated issue that needs meticulous preparation," Zhang said.
China has so far seven FTAs with Association of Southeast Asian Nations (ASEAN) member countries, Chile, Pakistan, New Zealand, Singapore, Peru and Costa Rica. Negotiation for FTAs is going on with Australia, the eight-member Gulf Cooperation Council, Switzerland, Norway, Iceland.
---